"Your most unhappy customers are your greatest source of learning." 
Here comes the question on how to identify those customers, what would be an ideal communication method with them, and how to learn and take further steps later on. Or maybe how to design a product that would eliminate the unhappy customers from your target on the first run.
A quick answer to all that – Product management!
Product Management Defined:
Digilite's team defines product management as the art of unleashing technologies to originate value-consistent solutions that resolve real-life problems your target market faces. 
Most of the time it's very tricky to give a concise definition to product management that will simultaneously set a clear line between project management and other similar fields. 
The difficulty with definition also lies in the fact that product management and its features differ from company to company and can include a very broad scope of responsibilities. 
While the name makes it obvious that it's the foundation for a product line development process, there are various steps that fall under product management, such as idea generation, marketing, and even sales.
Let's review a set of possible responsibilities that fall under product management: 
Idea Management
Roadmapping
Prioritization
Specification Detailing
Product Design
Delivery
Product Testing
Product Marketing
Customer Feedback
Structure Of Product Management:
Out of all the corporate functions, it seems that product management is the least standardized and defined discipline. Sales, HR, finance, engineering, support, and many others have a better-defined line of practice.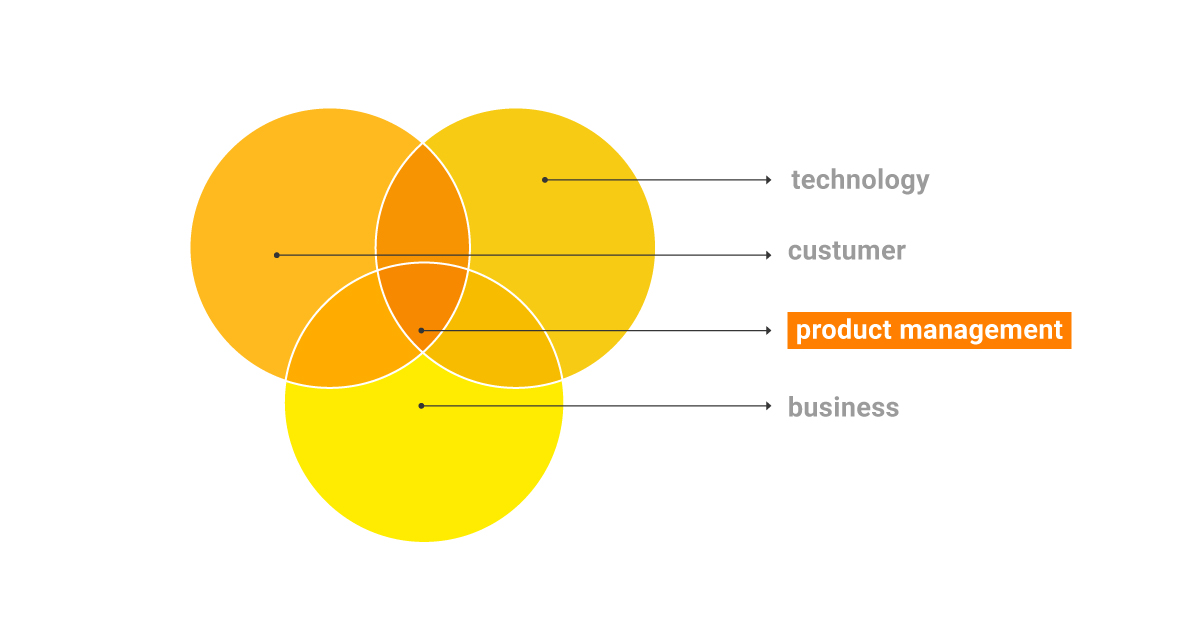 The above-listed elements of product management can fall into these primary categories.
Product Strategy
The entire process of developing an effective product starts with a clear and consistent product strategy that is market and customer-driven. Your strategy is the foundation that defines the future direction of your product and its final point of success. 
Note, that your product strategy defines who your target customers are, how it will achieve your business's perspectives, and how well it fits into the current market. 
In short, the strategy is the primary focus for your team on what's the most substantial impact on your customers and the business.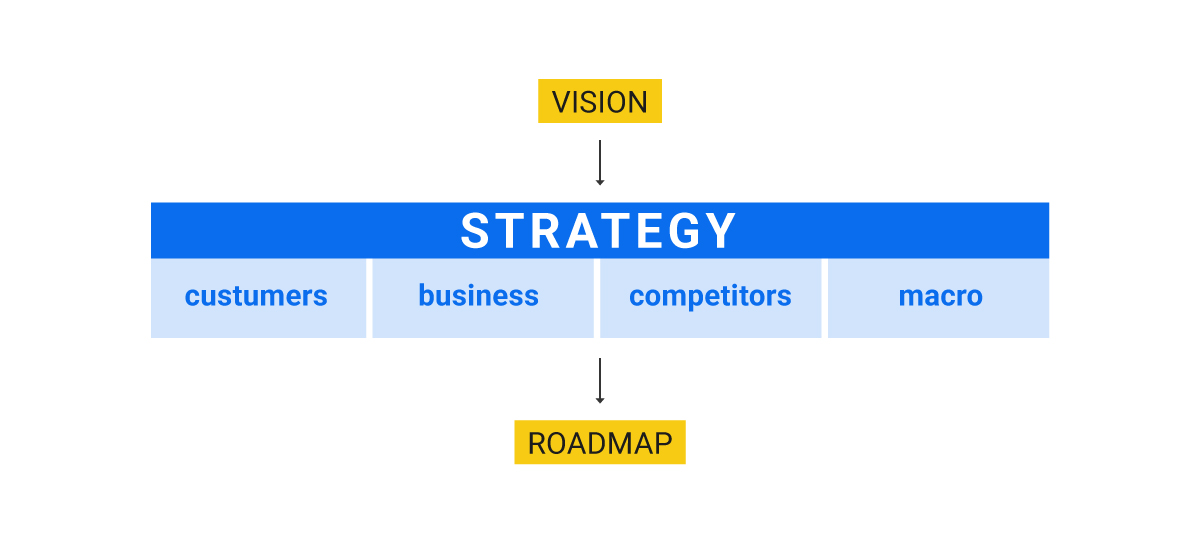 The four key elements of product development strategy are:
1. Customers:
A key to a successful product is to clearly know your customers' pain points and address those accordingly. Hence, your product strategy should first define who your customers are, what are their interests, their problems, their age, demographics, characteristics, preferences.
Our team recommends having a strong understanding of your target market's needs before working on a long-term product roadmap or strategy.
Additional tip: Be open to making adjustments during the product lifestyle according to your customers' feedback.
2. Competitors:
In most cases, companies have direct competitors for a certain product or at least targets with the same value propositions. During the process of creating your product strategy, you have to find ways to effectually differentiate your brand from the competitors and put more emphasis on your unique selling point.
3. Business
Every business's primary concern is the means on how to make money and ensure return on investment. Related to product strategy, it is responsible for deciding and communicating the means through which the product will meet your company's business goals.  
Companies apply various business models. It's important to define your business model properly that will serve as a guide for your team to understand how the product facilitates it.
4. Macro Environment
To put it short, the macro environment stands for economic, political, technological, and cultural forces and situations that in the long or short term affect your market and company. Consequently, the product strategy should encounter those factors accordingly.
Considering the above-mentioned aspect here are elements you can take into account during your product strategy process:
What are various economic forces that will affect your customer's financial wellbeing?
What are the emerging technologies that will dominate your market?
What are the possible markets where your product may have demand?
Product Development
The next step after a successful product strategy compilation is the main product development process. This in its turn includes but is not limited to:
Applying the marketing decisions to particular product requirements
Incorporating user feedback and requests, along with appropriate user research
Developing the design and implementation of the product 
Managing the communication process with the stakeholders,
And more.
In the traditional methodology, the product requirements document (PRD) is considered the primary deliverable, alongside well-known and implemented product roadmaps. 
The general process also includes defining technical specifications, making first prototypes, and mockup design. 
While these activities may as well as intervene with the activities of the UX team, a product manager can also be involved in the technical specifications. 
Product Marketing
Once the main product production stage is done, it is time to present it to the market.  By this point, all of your strategic decisions should be finalized and the sales team properly trained to start the distribution process. During the process, the responsibility of the product managers also presumes to deliver an operating plan, which includes presenting the indicators of the product growth, the revenue, key customers, and ROI.
This is not the end, but rather the beginning of the product so the product managers should be attentive towards the constant analysis of product success, sales, number of users, customer feedback and satisfaction.
Product Manager:
Although at the end of the day the name variations lead to the same package of responsibilities – building and establishing a successful product – different companies name the position of a product manager differently: 
Practice Manager
Product Editor
Product Marketing Manager
Practice Manager
Program Planner
Market Planner
Product Planner
In a sense, the product manager is the one who is responsible for understanding customers' needs and requirements, prioritizing product features and starting a thorough work with the engineering team to reach the final goal of having a killer product.
It lies under the shoulders of product managers to have clear answers to the primary 6W questions: 
Who (persona,)
What (problem,)
When (goal,)
Why (user scenario,)
What (requirement,)
How (specifications.) 
As defined by the Vice president of Product at LinkedIn, Deep Nishar "A great product manager has the brain of an engineer, the heart of a designer, and the speech of a diplomat."