These days people love sharing their experience and the products which impact their daily lives through social networks. This can potentially help spread the word about your company and your product. With this in mind, have a clear strategy will assist you in leveraging this to your advantage.
Did you know 79% of people say UGC highly impacts their purchasing decisions? Game changers in business such as Uber, Apple, and Starbucks feel the pulse of marketing trends and effectively leverage this.
What is UGC?
User-generated content (UGC) refers to photos, videos or reviews that users post on their own social feeds about your service or products. Actually, your customers are creating their own content about you, which your brand can then repost and reuse as a means to spread the positive news about your offerings.
Users aren't just writing a review or giving you feedback. It helps to build a deeper level of engagement and connection with new audiences. That's what makes UGC so unique and important in the digital world.
But do not mix this with the influencer marketing, though the two are similar. Influencer marketing is a partnership with an individual to create a beneficial marketing campaign.
User-Generated Content on Instagram
The best branded Instagram accounts are covered with user-content from around the web. Many brands are using it to interact with their fans and followers. The user picks his fav image/video, ads a lifestyle caption and shares it on Instagram while tagging your brand.
We highlighted 5 tips for marketers to consider.
#1 Create a hashtag
Simply search for your hashtag, and all of the recent posts with that tag will come up. Having a branded hashtag is a working way to find all of your UGC. With a user's permission, you can then grab the best ones and post them on your own account.
For instance, #Starbucks is one of the most popular tags on Instagram, and the coffee giant has seen major success in launching new products just by word of mouth on social media. Burberry was concerned that its brand identity was growing old and irrelevant. They created a wildly successful user-generated marketing campaign built around the hashtag #ArtOfTheTrench.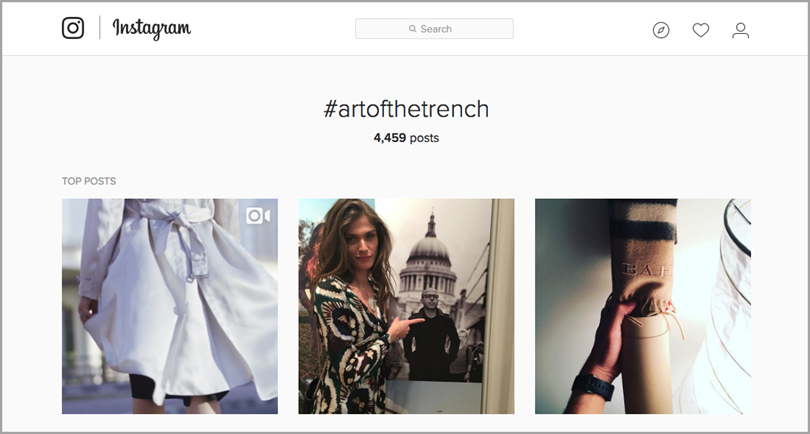 #2 Repost and give credit
If and when someone does create content about your brand or product, you should be there to receive it, thank them, and repost it. If you don't engage with your audience, people may stop posting about your brand – and you'll miss the incredible benefits mentioned above.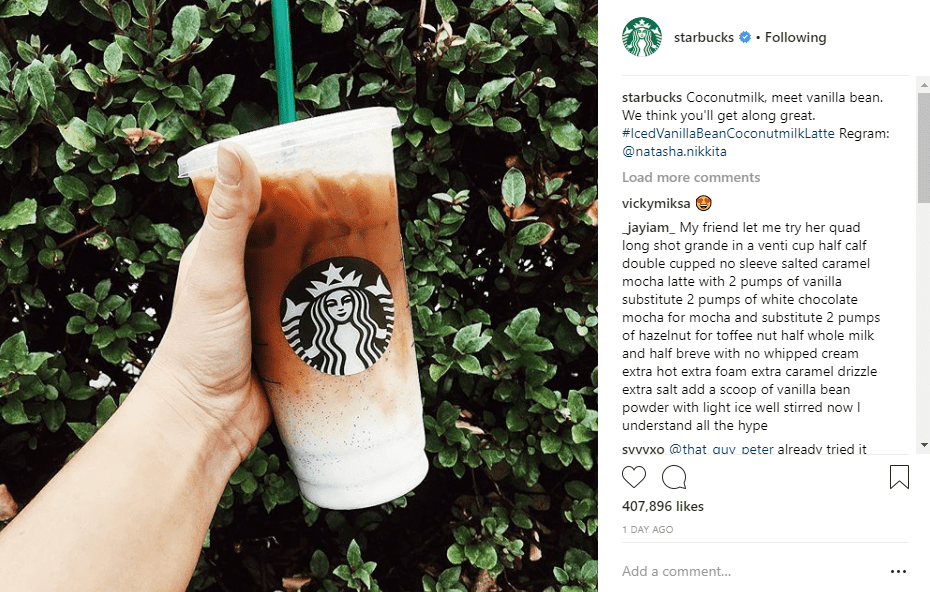 Important note! Not only reshare but to also give tag the original poster. This will make them feel special and appreciated, which, in turn, will motivate them to continue sharing their experience of your brand. Great way to generate loyalty and loyal customers or followers.
#3 Host a contest
A lot of businesses have seen successful by hosting a contest or giveaway. Announce that if your customers create content and include your branded hashtag, they'll be entered to win a prize or get a promo code for their next purchase. At first, it might be hard to get users to create their own content, but it can have a snowball effect.
Important note!
To avoid any PR pitfalls, create and abide by the Contest Terms & Conditions. These rules will guide the participants on how to take part and win the contest.
#4 Own a lifestyle
Brands like REI have been hugely successful on Instagram, using just UGC. The secret to their success is promoting a certain lifestyle.
REI is a strong outdoor brand that reshares a lot of photos from users. When Instagram users have cool hiking or camping photos and want publicity, they repost them almost automatically. So, being fast is also important.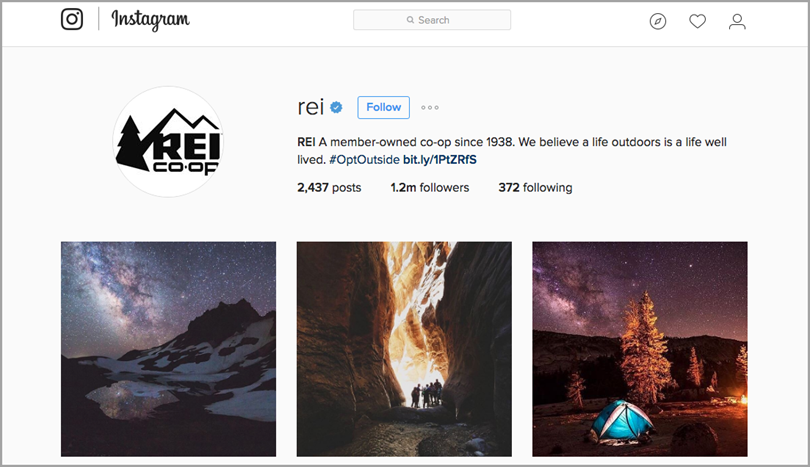 GoPro does the same thing with the culture of extreme sports and adventure travel lovers. Just stop and think about the lifestyle associated with your brand. Chances are very high that you'll find some relevant topics to remark and build your campaign around.
#5 Work with Micro-influencers
Influencer marketing is very common on Instagram as 92 percent of people trust recommendations by individuals they follow. Most companies know this, so they reach influencers for beneficial corporations with an already-established community. When choosing an influencer, marketers try to find a popular and relative one having the larger audience, the better. However, micro-influencers may be a better option for you as they usually have a a smaller audience but they create more authentic and relatable content.
With micro-influencers, you can keep good relationships and stand out from the competition.
Let's wrap it.
Promote your offers using UGC, reducing time, cost and effort in order to build your brand. You can think of UGC as word-of-mouth marketing.