Whether you are new on Facebook advertising or you are a real Pro in this field. It doesn't matter, there is always a room for improvements and new learnings. There are always new secrets and hacks that will lead you to more conversions and more engagements.
And of course there are millions of different ways to succeed and fail with Facebook ads, but the 5 secrets below should help and lead your campaign toward success.
Secret #1:  Stock Videos Are Better than No Videos
One Facebook video receives on average 135 percent more organic reach than one Facebook photo.
Photos used to be the most engaging type of creative on social media, but today videos surpassed visuals.
Quickly and easily put together a video for your next Facebook ad campaign with these steps:
Head over to Shutterstock or Adobe Stock's video selection and start there.
Choose a video based on your story.
Make the video your own with branding. (Add your logo or text overlay to the video)
Secret #2:  Don't Use the Color Blue in Ad Creative
Facebook's color is blue. And while creating a video or a visual for Facebook advertising, avoid using images and videos that have blue tones, as it isn't going to help your ad stand out in the News Feed.
Try using vivid colors like orange, green and red. Orange is blue's complementary color so not only will it stand out , but it will look great in your News Feed.
Secret #3: Craft a Fun Ad and Include Emojis on the Ad Copy
Everyone on Social Media loves a good emoji today. So why not to give it a try and add some relevant emojis to your ad copy? Keeping in mind these 2 rules!
Do NOT overuse emojis.
Only use emojis that make sense with the Ad copy.
The emoji should be relevant to the action you want the user to make and the emotion you are trying to convey.
Secret #4: Insert the Link to your website/landing page in the ad copy
Don't just rely on the button for website traffic but also include the link to your website or landing page in the ad copy.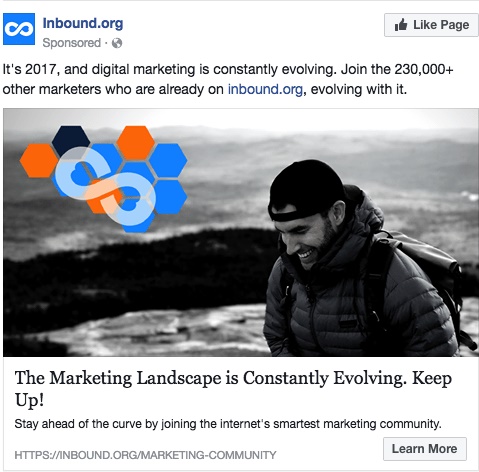 Psychologically, it can feel more comfortable for users to make the decision on their own to leave Facebook by simply clicking on the link within the ad copy. They know exactly what they're getting themselves into and they're choosing to go to that destination, versus clicking on "Learn More" not knowing where they'll actually go.
Secret #5: Ask a Question Right Off the Bat
We are all gathered here to provide some sort of information and solutions, right?
There is a simple trick to capture the user. By addressing the issue in the beginning of an ad, you're stopping a user in their tracks from continuing on with their regularly scheduled News Feed.
Need help bulking up, but don't know which protein powder is right for you?
Tired of spending your mornings sorting through emails?
Worried the IRS is going to come after your business?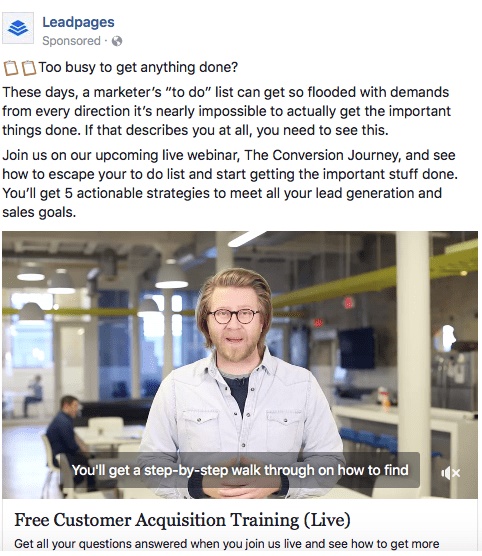 Summary
So when you start crafting your next Facebook Ad try to insert these five secrets and watch conversions soar!