We have a question for you. Why would you consider influencer marketing, in the first place?
Maybe it will help to promote your company and increase your revenue, maybe it is because relevant influencers have a large number of dedicated and loyal followers from which you can benefit, or maybe because influencers, unlike celebrities, are real-life customers that actually use your product, which empowers them to motivate their followers to certain actions.
Your reasons for considering influencer marketing might be different, and that is not our concern for this time. Let's suppose you already have a clear mind about raising your brand awareness and promoting your product through influencer marketing.
What would be your next step? How could you find the right person with the right audience who will match your marketing and advertising objectives?
As you are targeting a certain type of market with specific objectives and business goals in mind, you have to thoroughly research the industry of influencer marketing. Luckily, to help you solve this problem we have created a list of software that are the best platforms to find the ideal influencer match.
Upfluence
Upfluence is a full-scale influencer platform with a massive database of nearly 3 million influencers with a corresponding collective reach of about 82 billion followers. Interestingly, their unique algorithm updates and indexes all of the influencer profiles in real-time, giving the analysis of every content published by them, including those reach and engagement.
Moreover, provided the influencer authorizes it, you can also find information about basic audience data, such as the audience's age, gender, location and more. This will help you to find the audience that you are targeting and then switch to the influencer who has the highest number of such followers.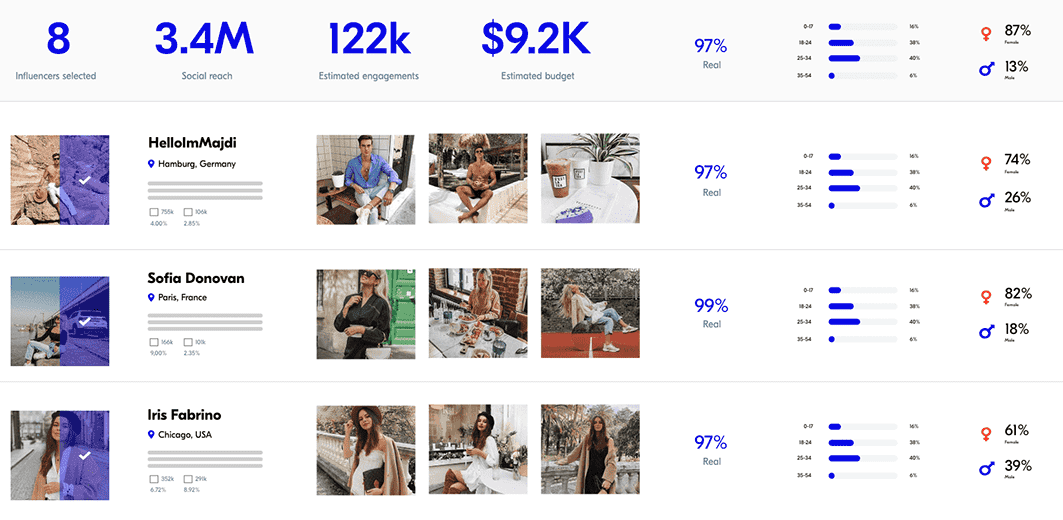 You can also conduct a search with keywords as necessary, which is a great benefit of Upfluence, as thought this way you can narrow the pool a little more and get to find the best match easier and faster.
Klear
Klear is another helping tool to find the right influencer on social media. In Klear, there are 60,000 topic categories that could help you find the right influencers and analyze their demographics and psychographics, again through the same platform.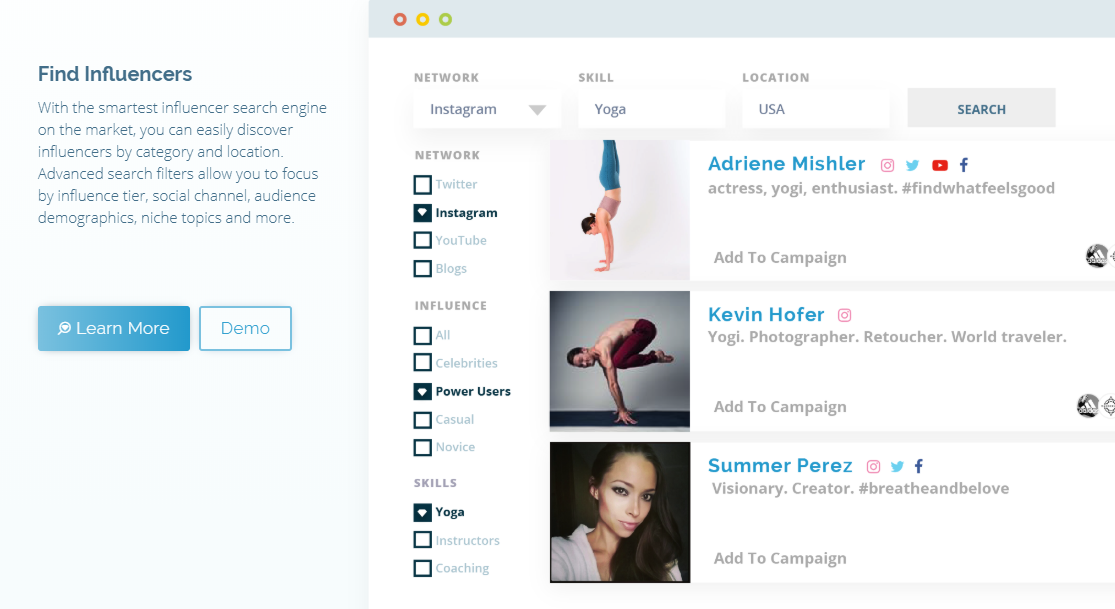 Considering the fact, that it is essentially a database of influencers, the search itself does not take long. Klear gives you the opportunity to search and filter the influencers listed by their activities on social platforms, by several aspects as their audience size, their location, skills, the keywords they mention, as well as by the demographic information of both them and their audiences.
An important benefit of Klear, is that it also enables you to measure the results of your influencer marketing campaigns, to help you figure out which one was successful.
HypeAuditor
You can use HypeAuditor if you are specifically concerned with whether the influencers or the likes and followers they get are through real accounts or not.
HypeAuditor enables you to either select a list of the top 1000 influencers or as well break the list into one of their suggested 14 categories. It also gives you the alternative of either selecting influencers' list covering all countries, or just concentrating on the list of the influencers from one of the 17 selected countries.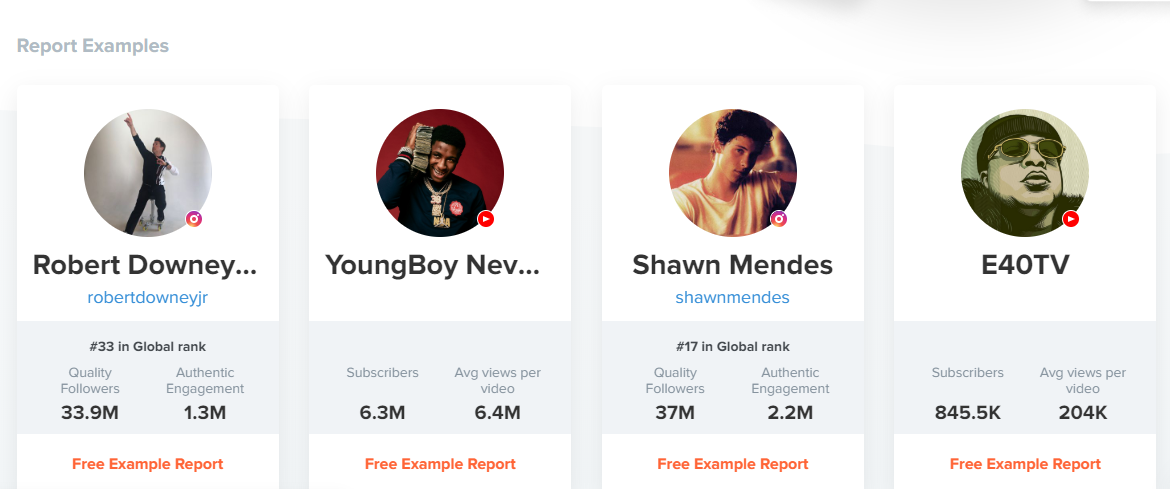 HypeAuditor as well provides the following relevant information for your search of the right
Influencers' Instagram username
Main topics of the influencers' posts
Their current ranking
Their followers
An estimated number of their authentic engagement
Their audiences country
NinjaOutreach
This platform will specifically help you with finding the influencers on Instagram and Twitter.
Yet again, in this platform as well, when you choose the right niche and your location the database will display a list of relevant influencers for your business. This platform also provides influencers social media accounts and their emails. You can as well find the engagement level of the influencers through this platform, and most importantly how much the influencer charges per post. This last feature can be specifically important to also help you define and decide on your budgeting.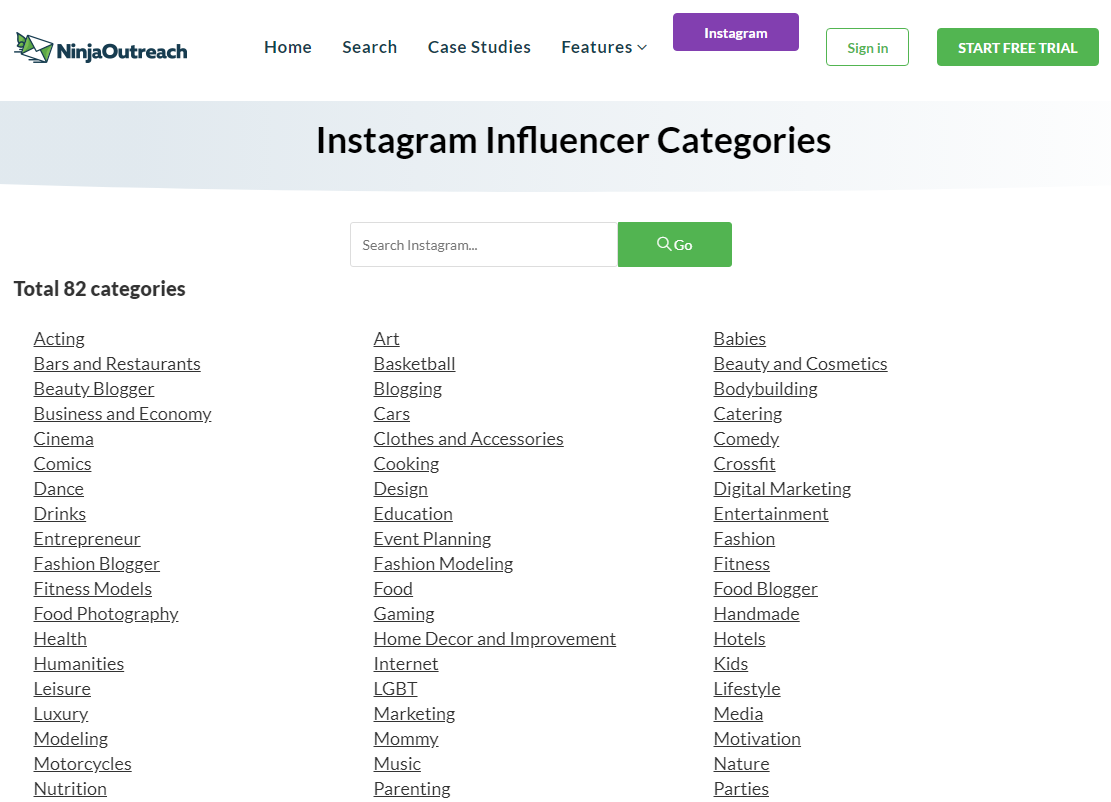 Luckily there is a free 7-day trial that the platform provides, and corresponding plans that start ranging at $49 per month. Additionally, the built-in CRM of this platform ensures the immediate start of your outreach. Worth mentioning, that with the help of NinjaOutreach you can track your email opens, clicks, conversation history, replies, and more.
BuzzStream
 "Build relationships. Build Buzz." That's what BuzzStream can offer you!
BuzzStream provides a browser extension that helps you find regular websites while browsing the web. Let's say if you by chance stumble across an interesting blog in your niche, through BuzzStrem you can add the blog to your list and find relative information about the person behind the blog.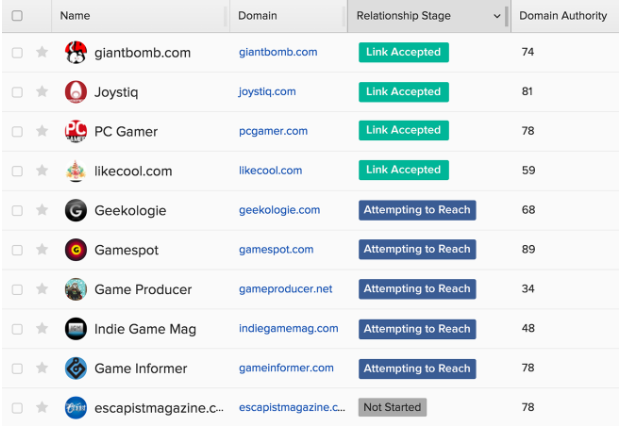 Moreover, it also provides you with an opportunity to use keyword research to find the best influencers matching your company and your niche. It does not give you a simple list of influencers, but rather provides you with a full image of that person's website and insights on their social media presence.