Web design and marketing go hand-in-hand, despite how they may initially seem to be worlds apart. This is especially true with a more specific branch of marketing — content marketing.  Through content marketing, businesses reach out to audiences through either timely or evergreen content. This can be done with articles, blog posts, e-books, guides, tutorials, and much more. Where does most of this content reside? On the company website. If certain subtle elements are not considered during web design phases, this can negatively impact the efforts of your content marketing. Let's dive in and understand how web design impacts content marketing and how you can make both work together in harmony.
Access to Content
What good is writing content if it isn't easily found or accessible? If your dedicated content writers took the time to create an informative e-book, it must be visible and navigable to readers via the layout of your web design. This can be through a separate tab on the website where your content is published if you produce content often. If the e-book is brand new and you want it to catch the attention of any viewer, add it as a pop-up on your website with an enticing CTA, especially if the e-book is available to read for free. Readers shouldn't have to go on a journey to dig for buried treasure on your website when looking for any sort of content. It must be served on a platter waiting for them to take. That's how web design and marketing efforts can bounce off one another for your benefit.
Readability of Text


Creating content isn't enough for effective content marketing. You also need to take into careful consideration how it is served to readers. You may write the most awe-striking content there is, but viewers won't read it until the end due to poor web design. Page colours and typography are important elements for readability. If you don't already, make the switch to easily readable fonts now. Swirly and fancy fonts look nice, but they can quickly become an eyesore, especially the longer the content is. If you don't want to go with mainstream fonts like Arial or Times New Roman, branch out to other serif fonts that are more unique, yet just as readable. Make sure the fonts you choose are in line with your overall branding.
Here are a few simple fonts to try out:
Helvetica
Georgia
Futura
Lato
Montseratt
Merriweather
In terms of colours, it's most likely that the designer has taken into consideration which colour combinations work better together on the website and which ones clash. If not, then you need to get your hands on a website redesign quick. Think of how easy it is to read black text on a white background. That doesn't mean your website colours can't be anything different. Just keep in mind that reading any text on the website should be as easy and effortless as reading black ink on white paper.
Website Layout
How web design impacts content marketing and overall user experience lies in one of the largest components of web design — the layout. Primarily, in how text is organized across the web page. Content marketing can't be effective if there are elements repelling readers from your website. And what drives readers away from reading content? A poor UI/UX design without consideration of content marketing user experience. Readers tend to concentrate their attention on a fixed part of the screen, which means websites that span their content wide from edge to edge of the screen are more likely to lose the interest and attention of readers.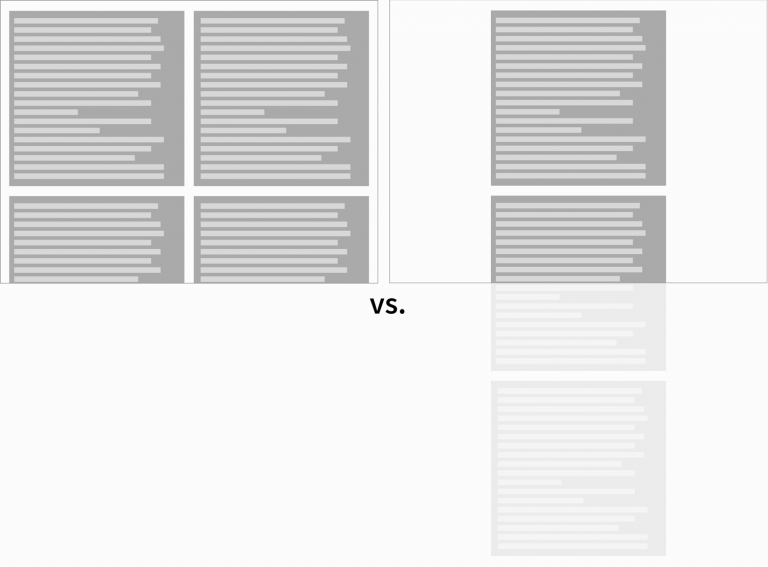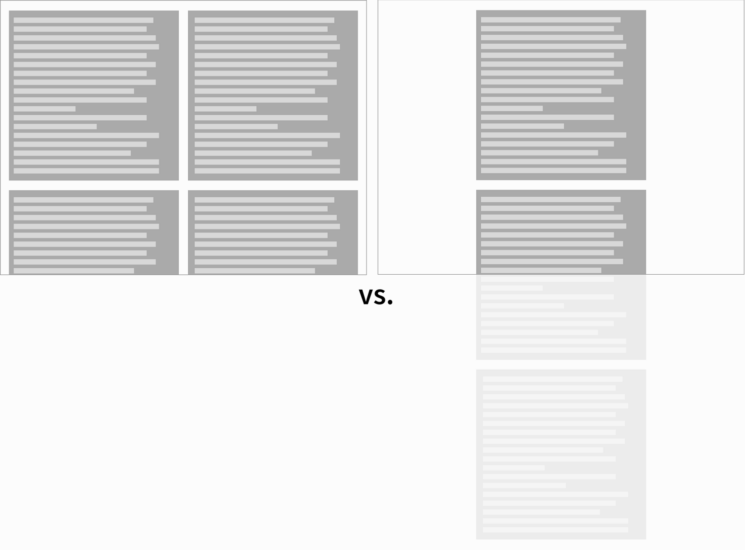 Many people wonder the reason why websites decide to leave the left and right edges of the page empty and center the text. Your website has the function of scrolling — make good use of it. There is no reason that the entire text of a blog or article needs to be visible in one frame. It's much easier for readers to maintain focus on the middle of the page. With this approach, you can make wiser choices that positively impact both your web design and marketing.
Use of Visuals
Visual aids like images, videos, and gifs are a great accompaniment for long texts. However, there are many things that can go south if you don't know how to correctly add visuals to blog posts, articles, FAQs, or other content-heavy areas of your website. Here are a few common web design mistakes that impact the effectiveness of content marketing:
Images or videos that take up too much or are organized haphazardly across the page.
Visuals that are broken, don't click, etc…
Overload of visuals causing the page to load slower.
Too many flashy or pop-up visuals.
We hope you implement these tips and helpful changes to get the most out of your web design and marketing. Need content marketing, web design, or to find the harmony between both? Digilite has a specialist for every detail.