According to Statista, 4.2 billion people use social media on a daily basis. As a result, it should come as no surprise that we use these channels to make purchases and communicate with brands. Because 54% of people use social media to research, browse, and buy things, it's well worth your time and money to invest in social media as a business.
Although online advertising is currently the primary source of revenue for the largest social networks, they are maturing and beginning to produce revenue from other sources such as e-commerce, digital payments, and video games, becoming good sources for social media investments.
The performance of the exchange-traded fund Global X Social Media ETF shows that investing in social media has more than doubled shareholder money since the start of 2018. Top brands like Facebook, Snap, Twitter, and Google's Alphabet, which also owns YouTube, have boosted returns.
Aside from the majors, there are also plenty of new social media networks worth paying attention to. With hundreds of millions of people likely to join the Internet in the next few years, now is an excellent time to explore investing in social media firms. So in case you're wondering why to invest in social media marketing, keep reading.
Top Social Media Stocks
How can you profit from this long-term trend as an investor? The most straightforward method is to purchase publicly traded social media properties. Some of the most well-known names in the social media sector, such as Facebook, hold a lot of different companies in the area since they tend to buy up-and-coming assets that appear to be winners. As a result, if you buy one well-known name, you're likely to acquire other social media properties as well.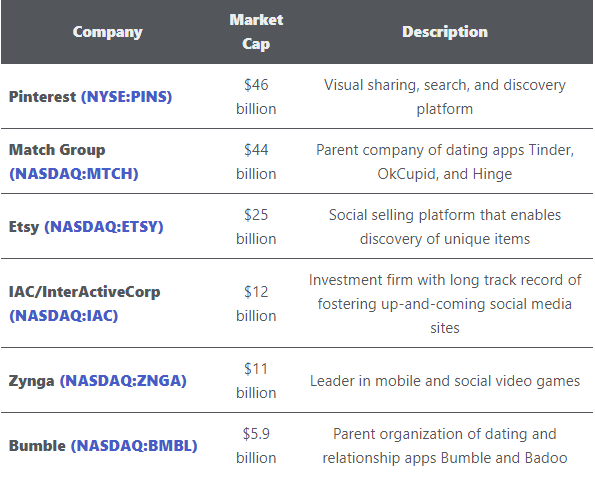 We'll cover several other ones dominant in the market. Let's have a look at some of the specifics.
Is it a good idea to invest in social media stocks?
The economic model for social media is always expanding and changing. With their roots in advertising, social media businesses are exploring new methods to link people all over the world while taking advantage of their vast networks more effectively. While the social media business matures, investors in social media companies should be content with buying and holding.
The following are some of the best social media stocks to invest in 2021 and beyond:
Pinterest
During the COVID-19 pandemic, this visual sharing, search, and discovery company was a tremendous winner. Millions of people throughout the world went to Pinterest while restricted to their homes, and many are continuing to do so even as the pandemic subsides. It has grown to be a leading site for businesses and producers to advertise their items via a distinctive picture and video-based style, with over 500 million users and counting.
Pinterest, despite its scale, does not make a profit, at least not yet. The company is substantially investing in order to expand rapidly, and it is on the verge of producing positive net income and free cash flow. This social media corporation has around $2 billion in net cash and equivalents, making it a strong competitor in the social media market.
Match Group
Match Group has been generating double-digit revenue growth for years, thanks to its sibling dating sites Tinder, OkCupid, and the growing site Hinge, which is common among younger generations. Finding companionship on the internet has been more common over time, but COVID-19 has helped to firmly cement the desire for such services. Even at the peak of the economic lockdowns in 2020, Match continued to develop consistently.
Match has a different business plan than other significant social media companies. Apart from advertising, it makes the majority of its money via subscriptions paid directly by customers. Match Group continues to predict robust revenue growth as online dating becomes increasingly widespread, particularly in emerging markets.
Facebook
By far one of the most popular social media platforms on the planet is Facebook. However, Facebook also controls WhatsApp and Instagram, two of the world's most popular social media platforms. In reality, as of October 2020, Facebook, WhatsApp, Facebook Messenger, and Instagram, all of which is owned by Facebook, were the first, third, fourth, and sixth most popular social networks in the world.
Each of those sites has more than 1 billion monthly active users, with Facebook topping the list at 2.7 billion — that's billion with a 'B'! The simple truth is that Facebook is the 900-pound gorilla in the room when it comes to social media exposure. Facebook stock has earned yearly returns of more than 21% over the last five years. So, make sure to keep an eye on it.
Etsy
Etsy is best recognized for its e-commerce platform, but it's also noted for its unusual approach to online sales. Etsy is an online discovery platform where customers may engage directly with creators, in addition to specializing in vintage and handcrafted goods. Etsy is one of the largest e-commerce sites with a social orientation, with approximately five million merchants and more than 90 million active shoppers.
Acquisitions have helped Etsy flourish. It owns Reverb, a vintage music equipment and reseller website, and Depop, a used luxury fashion marketplace with tens of millions of users globally, the majority of whom are members of Generation Z.
Concluding Thoughts
Before you invest any money, contact a financial professional to ensure that your choices are in line with your investment objectives and risk tolerance. But first, use this article as a reference to get a general sense of the specifics.
Digilite's marketing specialists know not only what social media platforms are worth investing time in, but also how to develop social media strategy to achieve your goals.