What Is SaaS Marketing?
To put it simple, Software as a Service, or SaaS, is a method of selling goods through cloud-based applications that receive regular updates and new features.
Unlike businesses that sell physical goods or make one-time sales, SaaS companies sell an intangible product and must constantly prove to their current and future customers that their "rented" or subscription service is worth the monthly charge.
The first SaaS company was established in the 1990s and sold floppy discs. When they hit a rough patch, they shifted gears and started selling applications online (and eventually sold for billions).
SaaS marketing (and companies) are almost synonymous with what it means to be a startup these days. Here are some examples of SaaS companies to give you more context:
SaaS Marketing Plan Metrics
Before you begin developing a detailed marketing strategy for your SaaS business, you must first determine what you will be calculating.
Having a clear understanding of your performance metrics will aid you in determining the efficacy of any campaigns you run and make required changes easy to identify and implement.
The metrics you monitor will depend entirely on your company's priorities, but no matter what you want to concentrate on, you should certainly be tracking the big three factors:
Traffic
Email subscribers
Leads
We all know that customers go through a purchasing period, which is usually broken down into three stages: awareness, consideration, and purchase. Hence all of the below will be discussed in the context of the mentioned stages.
Traffic
Website traffic is a significant metric in many marketing campaigns and a primary indicator of campaign progress. Many of your key tactics, such as content marketing and social media activities, will help you achieve this aim.
Why is web traffic such a significant metric in SaaS marketing strategy?
Tracking website traffic is a clear indication of the number of consumers connecting with your brand at the 'Discovery' stage of the buying cycle, as well as if the content you're pumping out is of interest.
Every month, more potential customers can discover your brand thanks to new, unique website users.
Email Subscribers
Email marketing, which we'll talk about below, is a fantastic way to connect with potential clients. It also has a good return on investment.
Why Is Email Subscription An Important B2B SaaS Marketing Metric?
Prospects who sign up for your email list are primarily interested in learning more about what you have to offer. This simply means that what you've already given them has been valuable, and they're hungry for more.
Prospects in the 'Consideration' stage of the buying cycle are typically email subscribers.
Leads
For many, qualified leads are the 'classic metric,' and one that any business should track. After all, isn't that what this is all about?
Why Are Qualified Leads An Important Metric In SaaS B2B Marketing?
This one should go without saying: to keep the sales funnel full, you need a steady stream of eligible leads. More importantly, you can monitor where these leads are coming from to see how successful your website conversion, form fills, and social media strategies are.
Qualified leads are those that have reached the 'Buying' stage of the purchasing cycle and are ideal candidates for free trials or demonstrations.
The 4 Best SaaS Marketing Strategies
It's time to develop some marketing strategies now that you've established your metrics and measurements. Here are 4 of our favorite strategies:
Content Marketing
SEO
Email Marketing
Remarketing
Content Marketing
One of our favorite tactics for rising SaaS companies is content marketing. What is the reason for this?
It draws attention to your business without being pushy.
It is extremely cost-effective.
It establishes your company as a reliable advisor and authoritative source of knowledge.
Content Marketing Tips For SaaS Look Like
Start by establishing some SaaS content marketing objectives, which will be focused on your marketing strategy's larger objectives. After that, it's just a three-step process to success:
Create the message and value proposition.
Make a decision on which content forms to use.
Distribute the content and make sure it follows the customer's journey
Define Your Messaging And Value
It's time to consider what's in it for them now that you know what's in it for you (your audience). Gather a pen and paper, a whiteboard, or your iPad Pro if you're feeling fancy, and come up with a few answers to the following questions:
-What do our potential customers want to know?
-What do we want our future customers to know?
-What is the most important detail we have to share?
If you're looking for content marketing ideas, the intersection of these three responses is a great place to start.
Distribute Your Content – Align With The Customer Journey
Be sure to map your content activities to various stages of the buying cycle while developing your SaaS content marketing strategy. Your blog, for example, should be educational and full of actionable tips, and it should be targeted at prospects who are still in the knowledge stage. A free demo or trial, on the other hand, may not be suitable for customers at this time.
Your Awareness stage content should be fairly general, educational, and industry-related, your Consideration stage content should be more in-depth and product/service/company-related, and your Purchase stage content should be decision-related.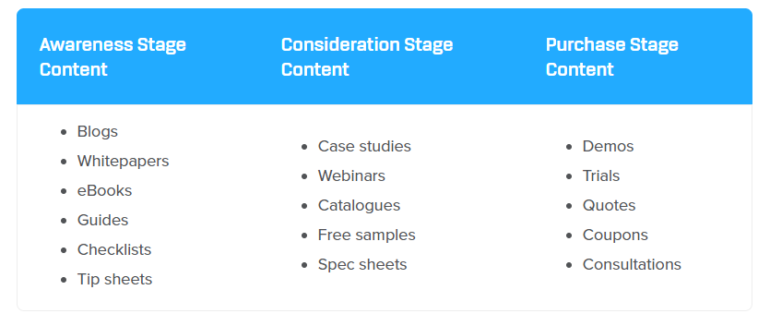 SEO
We love SEO. It's certainly not something you'll hear much.
That's because it's a long-term growth plan that can pay off beautifully if executed correctly. Fast victories imply quick defeats, and in SEO, there are no quick victories.
What Does SEO for SaaS Look Like?
SEO isn't really something that can be treated as a stand-alone campaign or operation. Although some digital marketing practices (such as PPC) can be turned on or off, SEO is the lifeblood of almost all you do online.  So SEO's role in SaaS marketing is crucial.
When you write a blog, SEO is a factor. SEO is involved every time you build a new landing page. SEO should be an integral factor every time you publish a new case study.
Three factors are considered in SEO for SaaS marketing:
Technical SEO 
The architecture of your website: Site metrics such as load speed, bounce rates, 404 errors, and navigation are all a part of it. Technical SEO allows for changes in the website's growth.
On-page SEO
The content on your website: Every word on every page of your website is crawled by Google's bots (including the blog). The higher your content ranks in SERPs, the better it is optimized for key search terms, semantically relevant keywords, and providing value.
Off-page SEO
Content on other websites that link back to yours: Links back to your site (or to your blog posts) indicate to search engines that your content is valuable. A higher ranking is aided by more backlinks (from high-quality, authority sites).
Email Marketing
Email marketing has a reputation for being an out-of-date marketing strategy. If someone tells you that, they are most likely not doing it correctly.
The reality is that email marketing remains a highly successful channel for SaaS businesses to pursue.
The cost of sending a weekly or monthly email is relatively low, and once you've built up a good database, your email sends will provide a substantial return on investment.
Tip from Digilite: Segment Your Email List
When your email subscriber list grows, you'll find something: your subscribers aren't all in the same package.
Some of them are only getting to know you after reading an interesting blog post and signing up for your email newsletter.
Some could be on the verge of making a purchase after completing a free trial or demo. Others could be your existing customers who are searching for advice about how to use your apps more effectively.
It goes without saying that each of these subscribers has a particular form of content in mind. You should segment your email lists and send more buyer-specific email content to each subgroup to get the most out of your email marketing campaigns.
Remarketing
Remarketing is the process of targeting consumers who are interested in your (or a similar) product directly using web traffic and search data.
Remarketing To Prospects That Are Interested In Your Competitors
This is a popular strategy used in a variety of marketing activities, especially in Search Engine Marketing. It's also very good at remarketing.
Consider a scenario in which a consumer conducts a Google search for software that is close to what you sell but does not make it to your website for any purpose.
Maybe you weren't ranking for that specific search word, maybe your meta description wasn't compelling enough, or maybe they went straight to a competitor's website.
You can take advantage of this search data by inserting supported ads in their social media feed.
Concluding Thoughts: 
Do you want to learn one last secret?
If you're a small or a medium business that wants to get there quicker, Digilite is your rocket ship.
Don't waste any more time. Contact us for a killer SaaS strategy for your business.