As the new year has come, you need to take some essential steps to have a marketing calendar for 2022. But before jumping to the creation of a marketing calendar and providing you with a free social media marketing calendar template, you need to understand the basics of a marketing calendar. Let's dive right in.
What is a Marketing Calendar?
A marketing calendar is a plan that includes all your marketing activities during a specific timeframe that can be a quarter or an entire year, for example. You should constantly make updates on your yearly marketing calendar whenever you add new marketing campaigns or activities. That doesn't mean you can't add or remove anything from your calendar for the whole year, but rather it will give you a resourceful outline to guide you through the year. Though a yearly marketing calendar requires some amount of time and resources, it definitely pays off in the future.
You need to consider annual cultural events, holidays, and celebrations when planning a yearly marketing calendar. Having a creative marketing calendar will help you hit a home run.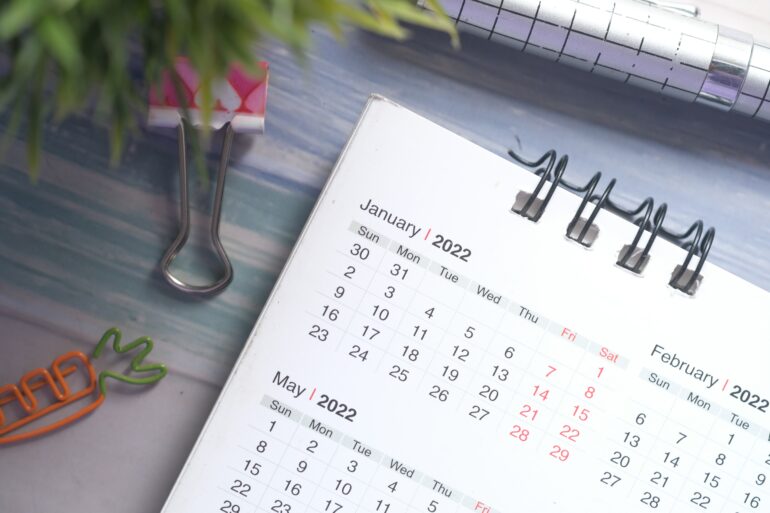 Why Is a Marketing Calendar Important?
Now let's quickly see how you'll benefit from building a monthly, quarterly, or yearly marketing calendar:
Guide the marketing team by displaying all marketing activities.
Never miss essential events and holidays.
Plan a promotional activity (e.g. Black Friday) ahead of time through a marketing promotional calendar.
Keep advertising campaigns consistent.
Plan beforehand to reach your business goals.
Help team members understand who is responsible for a certain task.
Track marketing efforts and know your progress.
Types of Marketing Calendars You Can Consider in 2022
Building a creative marketing calendar can have a successful impact on your marketing performance. People use different marketing calendars to accomplish various marketing strategies. Let's dive into the most common marketing calendar types:
Digital Marketing Calendar — Having a digital marketing calendar template can help digital marketers have a clear roadmap of their digital marketing services and activities. These activities can include anything starting from on-site blogs to guest posts, paid campaign launches, PR, influencer marketing, sales, search engine optimization (SEO), etc. As most businesses go digital to walk with current technology advancements, having a digital marketing calendar can help you keep track of all your marketing efforts not to fall behind your competitors.
Social Media Marketing Calendar — Whenever you have social media platforms, you publish regular postings on those channels. That's why having a social media marketing calendar can help you keep track of each channel and know what content should be posted and when. It's recommended to post content on various social media channels because the audience and purpose of each platform vary.
You can organize your tasks ahead of time and understand your content performance with an overview of each post. Not only can you keep consistency but also meet deadlines. You don't miss any essential dates and post regularly on particular periods of the day.
Digi-Tip: If you opt for social media marketing services from an agency or freelancer, ask if they create a dedicated calendar for your project. If yes, that is a sign that your project is in good hands.
Content Marketing Calendar — To plan your content marketing strategies, it's self-explanatory that you need a content marketing calendar. Many team members work on creating content and through the calendar, you can help them understand what tasks they should do and when the content should get published. Through a content calendar, you also provide the consistency that helps you create content that meets your audience's needs.
A content calendar can help you have a successful publishing schedule for all your content. This editorial calendar keeps all your planned content scheduled and accessible in one spot.
Email Marketing Calendar — This is a form of the content calendar where you schedule when to send emails. You can personalize them to include holidays and industry-related events so you don't miss out. Through this marketing calendar, you can schedule email campaigns, promotions, special announcements, detailed newsletters, and follow-up emails. You can build a marketing promotional calendar for your email marketing to elicit an action.
2022 Marketing Calendar Based On Months
Now let's dive into how you should build a marketing template in 2022 for each month.
What to Include in a Marketing Calendar?
Here are a few tips on what you should include in your marketing calendar:
Write the project names or campaign names on which you're going to work.
Have certain tasks that will help you accomplish the set goals.
Identify the team members responsible for each task.
Set deadlines for each task to ensure an organized and scheduled calendar.
Involve special days and seasons in your calendar, like Christmas, Thanksgiving, etc.
It's time to understand what kind of content you should post each month:
January — This is the month of New Year's resolutions and new goals. Start by wishing your customers Happy New Year and providing special offerings for your services. Share new goals of your business with your customers. Consider New Year's resolutions like self-care, exercising, healthy eating, etc. Choose the type of resolutions that fit your brand. You may post content regarding lifestyle changes.
Digi-Tip: Based on your business and its location, the holidays may vary, so make sure to see the holidays of that particular country not to miss them.
Here is the list of Canadian Special Days:
January 1 – New Year's Day
January 6 – Epiphany
February — This month also has special days that need to be celebrated by marketers. So, keep in mind that you should consider the holidays that fit your brand. You can research to find some special days by considering the term that describes your brand. Here are the days you may consider in Canada:
February 14 – Valentine's Day
February 21 – Family Day
Islander Day
Louis Riel Day
Heritage Day
March — March is mostly associated with women but remember that based on the region the celebrating days may differ as well. Let's see the celebrating days:
March 8 – International Women's Day
March 17 – St. Patrick's Day
April — Have some fun with your marketing campaigns in April. Here are some of the days you may consider celebrating:
April 1 – April Fools Day
April 15 – Good Friday
April 17 – Easter Sunday
April 18 – Easter Monday
May — The spring's last month brings flowers, blossoms, and the warmth of the sun. Let's see the celebrating days of this month:
May 8 – Mother's Day
May 23 – National Patriots' Day
Victoria Day
June — The first month of summer conveys warmth and a travelling mood to everyone. Here are its special days:
June 1 – International Day for Protection of Children
June 19 – Father's Day
June 21 – National Indigenous Peoples Day
June 24 – St. Jean Baptiste Day
July — Summer continues and you can offer some special deals for summer fun. Here are some special days:
July 1 – Canada Day
July 17 – World Emoji Day
August — This is the month when many people come home from their holidays. You may offer some promotions to them. Here are special days:
August 1 – Civic Holiday
August 5: International Beer Day
August 13: International Left-Handers Day
August 19: World Photography Day
September — This back-to-school month brings with it new goals, projects, and new marketing opportunities. The special days are:
September 5 – Labour Day
September 30 – National Day for Truth and Reconciliation
October — This is the month of gratitude. Be creative with this month, and here are the days that you should consider:
October 10 – Thanksgiving
World Mental Health Day
October 31 – Halloween
November — This is the month of sales, as people buy gifts for each other and the Black Friday comes. Here are the days you may want to consider:
November 11 – Remembrance Day
November 21 – Start of the FIFA World Cup (Men)
November 25 – Black Friday
December — You can provide special holiday offers and campaigns this month as Christmas is on its way. The days to consider are:
December 3 – International Day of Disabled Persons
December 24 – Christmas Eve
December 25 – Christmas Day
December 26 – Boxing Day
December 31 – New Year's Eve
This was your ultimate guide to creating a digital marketing calendar for 2022. Don't forget to get our free social media calendar template and if you need any additional help, you can always opt for assistance from Digilite's dedicated digital marketing specialists.
Here is a free social media marketing calendar template for you. Just fill in your email and get the template for free.
Please select a valid form