Negative SEO – a myth or a reality? 
The fight over ranking high on search engines continues, and the bad news is that not everyone is a fair fighter. 
Hence, the term negative SEO comes handy to keep away from being a victim of spammy links and negative reviews. 
In this article, we will uncover essentials regarding negative SEO, tips on how to identify it and protect your business. 
What is negative SEO? 
Negative SEO is a set of black hat and unethical techniques aimed at demoting a competing site or completely removing it from the search engine. 
Negative SEO practices come in different forms, including but not limited to: 
Hacking your website
Creating spammy links against your domain
Building fake social signals or profiles
Copying and redistributing your content
Removing the best backlinks of your website
Generating negative reviews to influence ratings in SERPs
Is It A Real Threat To My Business? 
Simply try to search "negative SEO" on Fiverr, and you will find over 15,000 people willing to do it for a very low price. 
To prevent the risks of negative SEO, Google has released a new tool, the Disavow, that's targeted to deal with the problems raised by negating SEO practices.
Matt Cutts, an Administrator at U.S. Digital Service (USDS) addressed the dangers of negative SEO for business and explains possible scenarios to protect your website with the help of Google's tools. 
Check the video below for details:
How to Spot a Possible Negative SEO Attack
Some of the signs that someone used negative SEO to successfully attack your website and search rankings are the following: 
1. Sudden Drop In Your Search Traffic
One of the primary goals of negative SEO is to reduce your ranking on search engines. Hence, if you haven't done anything dodgy by yourself, then an unexpected drop of ranking can clearly be a result of a possible attack. 
2. Manual Penalty Notification
Generally speaking, there are two primary types of Google penalty: manual and algorithmic.
If the penalty is manual you will get a lovely little message from Google stating that they are taking actions against your site, similar to the example below.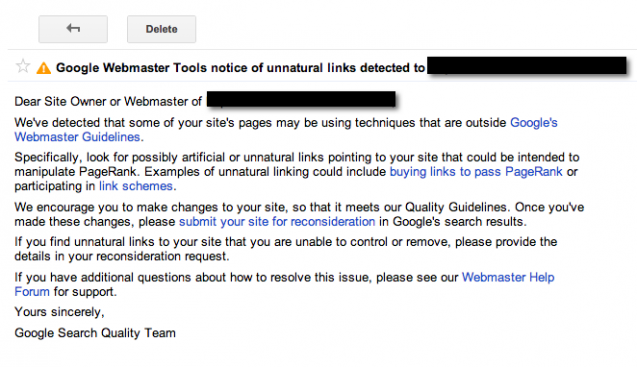 Yet again, if you are conducting effective SEO practices and have a good strategy that is only meant to improve your website, the penalty may as well have been triggered by a negative SEO attack.
3. Drop-In Individual Keyword Rankings
There are various tools and resources that can help you track your keyword ranking, like SEMrush, and Ahrefs' Rank Tracker. Thanks to your effective SEO practices, your search position should be either static or improved. When you identify a sudden drop, you can consider it as a sign of negative SEO. 
Tip from Digilite: If one of your primary keywords has been successfully pushed out of the SERPs then you might not immediately spot it through looking at the overall site traffic. Hence, make sure to individually track the most important keywords for your website.
How to Recover from a Negative SEO Attack
Identify the Harmful Links
You should first identify the links that are harming your website. Chances are high there will be not a single but hundreds of links pointing at your website that needs to be removed, especially when you have been penalized for those. 
Luckily, there are a variety of link auditing tools that can help you in this step. You can also check and remove the links manually from Webmaster. 
Our SEO specialists can help you effectively remove all of the harmful links on your website. 
Ask for the Links to Be Removed
Google recommends asking for any links to be removed, even in the cases of intentional bad link placement by your competitors. 
Considering this factor, you can send polite emails to the sites from which those links are coming from, to remove the links or change them to "nofollow," which will neutralize their weight. 
Your email can include the following points: 
Your name, position, and contact information
The page(s) where you found the link(s) you want to be removed
A deadline for the removal
Considering the number of harmful links, you can create a spreadsheet to log your related activity there; websites contacted by you, the follow up of the responses, the deadlines of removal, etc. This is important, as it will also help you create a disavow file, which we will talk about in the next point.

Create and Upload a Disavow File
If the requested link has not been removed by the deadline you should work on creating a disavow file. Google allows website owners to disavow links, in other words, to effectively strip links of their power, be careful, any inappropriate use of the disavowed links will harm your website.
Remember your spreadsheet mentioned in the previous step? Time to go back to that sheet, and export the list of links that haven't been removed. 
Note that you also have to create a text file containing the list of links (or full domains) you want to disavow and upload it in Webmaster Tools. 
Check Google's page on disavowing links for further detail right here.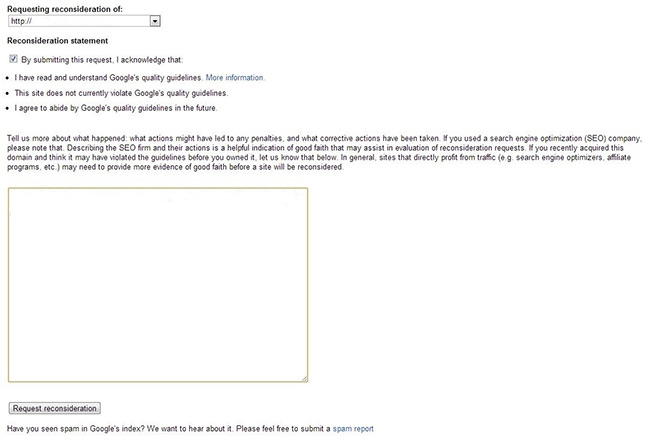 Submit a Reconsideration Request In Case of a Penalty
If you received an unnatural link penalty as part of a negative SEO attack,  you should submit a corresponding reconsideration request that will allow you to get back on the search engine results.
Google has a detailed and valuable video on the page detailing and requesting a reconsideration of your site. Make sure to check the video for further details.
Negative SEO is not a myth, but rather a very serious threat to your website's ranking in search engines. 
Fixing the consequences of negative SEO attacks can sometimes be really hard and time-consuming. In this sense, it is worth investing in the effective identification process of negative SEO practices on your website. 
In any scenario, Digilite offers a wide range of SEO practices not only focusing on the improvement of your SEO ranking but the protection of your website from possible negative SEO attacks.