According to the recent research carried by Hubspot, 73% of millennials claimed that they prefer when communications from businesses come via email. Moreover, more than 59% of marketers reported that email was their biggest source of ROI in 2019.
Quite impressive, isn't it?
Taking this into account, it's needless to say that digital marketers should pay particular attention to email marketing when crafting strategies and making decisions about their monthly budget allocation between different marketing activities. Email marketing is a particularly valuable addition to the digital marketing mix of E-Commerce businesses. After all, if you're selling online then it's safe to imply that your customers are pretty comfortable with using online communication tools. Thus, most likely, they check their emails rather frequently. On the other hand, every marketing specialist will agree that one objective for which email marketing has no equivalent in terms of effectiveness is retention marketing, which is an utterly relevant business goal for the majority of online store owners. At the end of the day, loyal customers that make repeat purchases are the ones who bring the most value to these businesses.
At this point, you probably already see the promise of email marketing for your virtual store, but how to get started, what exactly you can do?
For the effective execution of email marketing campaigns, businesses can rely on Email Service Providers, companies that offer bulk email handling services. Some of the advantages of using ESPs include facilitated fast distribution and management of emails in large volumes, list management and personalization features based on CRM data, email tracking for analytics and insight gathering, subscriber management for relationship maintenance, separation of marketing emails, effective HTML design features, enforcement of CAN-SPAM and other email regulations, as well as facilitated campaign automation. For instance, at Digilite, we partner with MailChimp, a leading Email Service Provider, to take advantage of all the features mentioned above and craft winning email marketing strategies for our E-commerce clients. We incorporate the tools in our well-established process that starts with goal setting and goes all the way to impact measurement.
In this article packed with actionable and proven tips, we aim not only to help you have a more holistic understanding of the promise that email marketing has for online commerce but also to help you put together a roadmap to successful execution.
So, let's get started!
Business Goals
Though through email marketing, different types of businesses can pursue different types of goals – from networking to survey research. For E-Commerce businesses, the goal is typically straightforward: it centers upon driving revenue for your e-store (a.k.a increased sales). However, this broad and somewhat vague goal can be broken down into 3 slightly more specific ones as suggested below.
Lead Generation: As an E-commerce owner, you can use email marketing to reach users who have ever visited any of your company touchpoints (e.g. websites) and offer them relevant products with the aim of turning them into leads.
Direct Sales: You can use email marketing to offer the right set of products to the right audience segments at the right moments in time to lead them to an immediate purchase.
Customer Retention: As noted in the beginning, as an online seller, you can use email marketing to maintain relationships with your store's existing customers aiming to provide them reasons to make repeat purchases and become loyal customers.
Regardless of the goal that you pursue, It's important to be cautious not to send spammy content and scare aware of the customers. For this, it's important to automate, personalize, and optimize all of your email campaigns.
*Pro Tip: Start small, take small steps aimed at creating a rapport with your audience and build from there. In email marketing, it's neither about quantity nor about speed: it's all about quality and precision.
Automation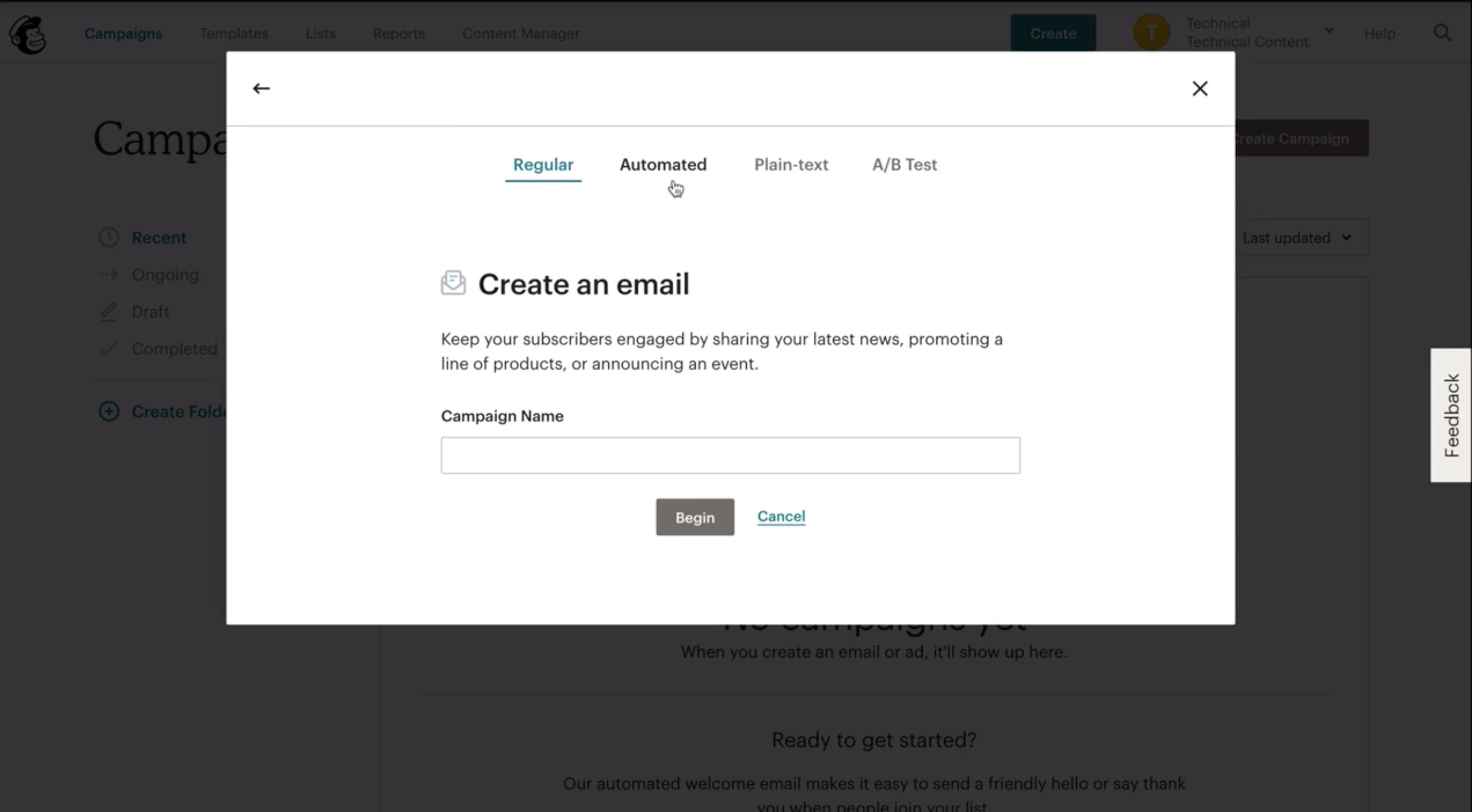 One of the cornerstones of email marketing success is automation. Coming up with fresh content is hard. Through automation, you set up your content once and then deliver it to target audiences automatically at times convenient both to them and to you. Automation helps connect with customers on a regular basis depending on their behavior. In this way, it assists online commerce owners in achieving the aforementioned goals.
Some types of automation relevant to E-commerce include:
On-Boarding Automations: Once a lead signs up in your store, you can send a welcome message with a coupon, a welcome video with some calls-to-action, a white paper about your products, or perhaps another valuable free download. This will help you establish a positive rapport with your prospect and provide him/her an indirect incentive to keep on interacting with your brand.
Abandoned Cart Method: Imagine someone "takes a walk" in your virtual store, adds certain products and is about to complete a purchase, but suddenly, he/she leaves your site without converting. This is a common painful experience for e-commerce owners that can be addressed with the Abandoned Cart Method Automation. By designing nice visualizations of the product lists that they intended to purchase and adding smart copy aimed at getting customers back, you may succeed in directing them back to your store and making them complete the last step of conversion (purchase).
Purchase Follow-Up Automations: You will most probably agree that superb service is one of the most potent "brand loyalty triggers".  As a purchase follow-up automation you may ask recent buyers to rank their experience, delivery and service satisfaction, etc, You can also use the automation to distribute personalized, product-specific surveys, which can help you not only to give your customers the feeling that their opinion matters, but you can also gain valuable insights about your products' popularity.
Best Customer Automations: After spotting your best customers (a.k.a, customers with the biggest lifetime value), you can use best customer automation to offer them personalized discounts, early access to new products, free delivery, etc. This will help you make sure that not only do they remain loyal to your brand, but they also become your brand advocates.
When setting up automation, it's important to maintain a consistent brand voice, create content that is seriously evergreen and use appropriate timing. The main risk in email marketing is being irrelevant, or inconsistent. So, by doing the suggested, you avoid the threat.
*Pro Tip: Remember to always double-check your links and make sure your automations do not fire one after another. Otherwise, you risk embarrassing the receivers and losing their trust.
Optimization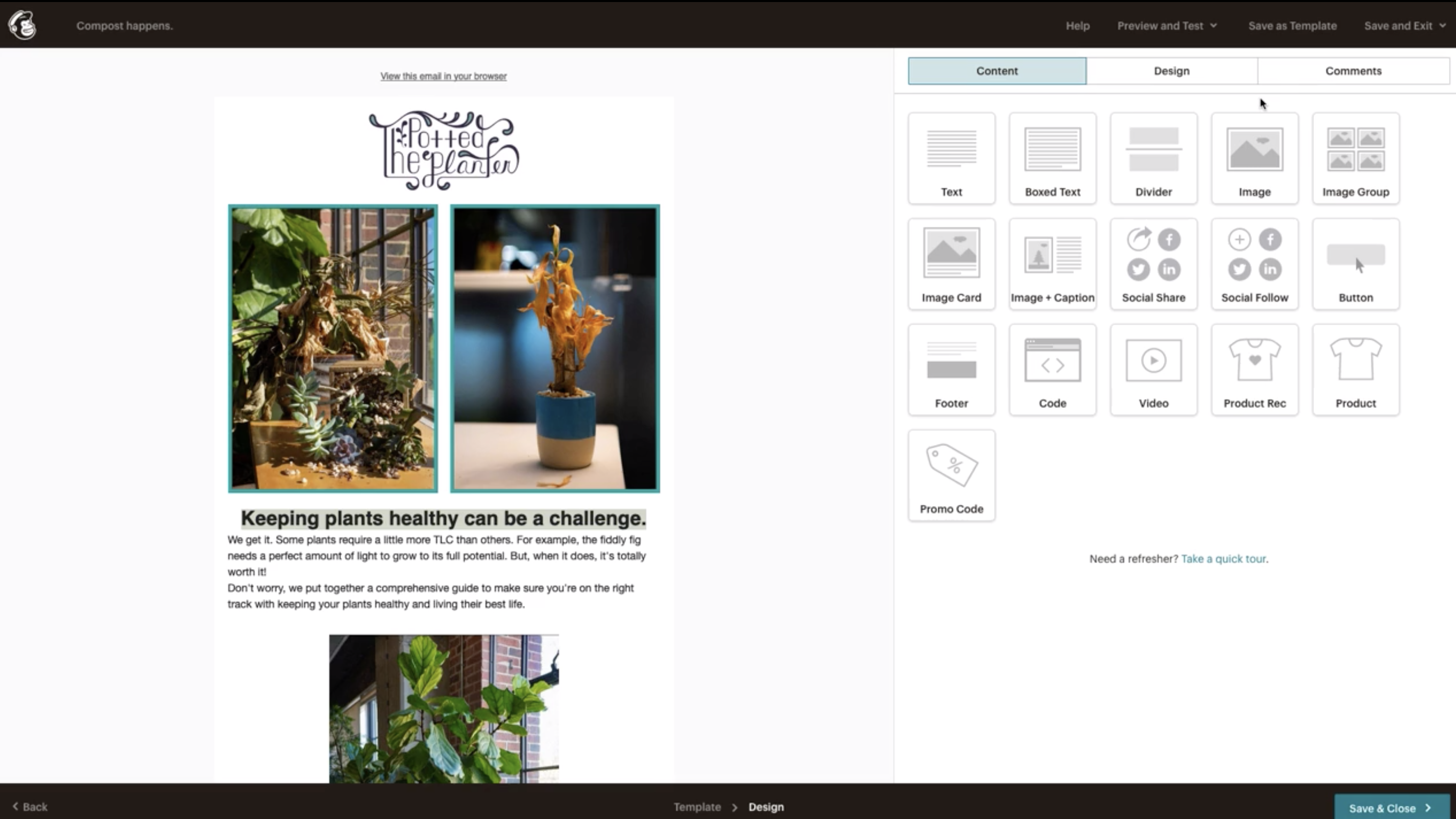 Besides choosing the right type of automation aligned with the goals of your online commerce, you should make sure to optimize your emails. Optimization is all about making emails "the absolute best" that they can be by making data-driven decisions. To optimize your email campaigns you can analyze and use the insights about your audience's behavioral differences based on device type, their geographic, or demographic characteristics, their lifestyle data and so on. Moreover, you can use A/B testing, inbox preview testing, time of the day optimization, sent-time optimization and much more.
*Pro Tip: Use inbox preview testing to create best performing templates
Personalization
The more information you have about your subscribers, the more relevant campaigns you can craft. People love when they get messages that are personally relevant to them and that address them directly. This is possible to implement through email marketing.
Two of the personalization tools relevant to e-commerce businesses are:
Merge texts: Using the data from your store's CRM, you can insert automated merge texts and make each and every one of your emails appear uniquely addressed to each recipient. This can enhance the probability of your emails being read.
Product recommendations:  Combining the data about the purchase history of each customer with data about your best-sold items, you can come up with personalized product recommendations and take your retention marketing efforts to the max. This can be particularly relevant for Best Customer Automations (if you love binge-watching movies and want to learn more about product recommendation engines, consider going over this article about Netflix's top-secret product recommendation system.
Impact Measurement
As with any marketing effort, in email marketing too, after implementing the campaigns, you should always evaluate the performance to make sure that your efforts served their purpose. For this, consider tracking the following metrics that can be particularly important for E-commerce.
Open Rate: This is a useful metric to track regardless of the industry as, through a pixel embedded in the email to track opened emails, it gives an idea about the absolute reach of your emails.
Click Rate: This is a valuable metric If there is a URL in the email since it captures the clicks on the links. Click rate can be particularly relevant and important for E-commerce businesses as it can give an idea about any desirable actions, such as purchases coming from email marketing channels.
Unsubscribes: The metric captures people who have unsubscribed from your emails. It can be indicative of the overall quality and relevance of your email marketing strategy.
Bounces: The metric captures dead accounts (a.k.a. no one uses the email account anymore). Tracking bounces is useful for eliminating these accounts from the subscriber list and making sure that the CRM has no obsolete data.
Abuses: The metric includes people who accuse you of spamming. Similar to bounces, tracking abuses may be useful for updating the subscriber list to eliminate the so-called "demon customers" that bring damage instead of value.
Your list is constantly evolving, and the world is constantly changing so you have to test over and over again. However, when testing, remember: If you change too much, you won't have a sense of what's working and what's not working. So, it's worth changing one thing at a time and comparing the performance for different audiences/segments. Also, it's important to use industry benchmarks to put the metrics in perspective.
*Pro Tip: Use Email List Growth (Subscribes + Unsubscribes) to assess the overall performance/health of your email marketing efforts
The Bottom Line
Summing up, E-commerce businesses can benefit a lot from the smart integration of email marketing campaigns in their overall marketing communications plans. While often overlooked, email marketing is a potent tool that is particularly well-aligned with both the business objectives of online sellers and the behaviors/preferences of their target consumer sectors. Implementing some of the automation suggested above, optimizing them through testing and tracking the impact of the campaigns, E-commerce businesses can not only develop a loyal customer base but also make sure to maintain profitable relationships with them.
*BONUS Exercise
Last but not least, we have prepared a quick exercise, which will take you no longer than 15 minutes to complete but can make you a more critical and strategic thinker in regards to email marketing.
Go to your inbox and find a promo email that you didn't engage with
Answer the following questions: What element of the email did you notice first? Was the email visible and comprehensible on the screen of your device? What appealed to you in the email? Who was the sender? What was the key message of the email? How long did it take for you to understand their message? How relevant was their message to you personally? How relevant was the message to the sender? Did the email trigger you to take any action? What are your impressions of the sender after reading the email?
Based on your answers to the previous questions analyze the mail furtherly by asking yourself the following questions: What would have propelled you to open that email in the first place? How could you improve the mail to make you complete certain actions aligned with the goals of the sender?