In all types of businesses, brand awareness and brand affinity play essential roles in sustainability and growth. Their main importance is in boosting your customer base. If you really grasp their concepts and are able to increase and maintain them, then you are already making a very decisive step towards more success. But first, let's understand what brand awareness and brand affinity actually are, why they are important, and how we can use them.
What Is Brand Awareness?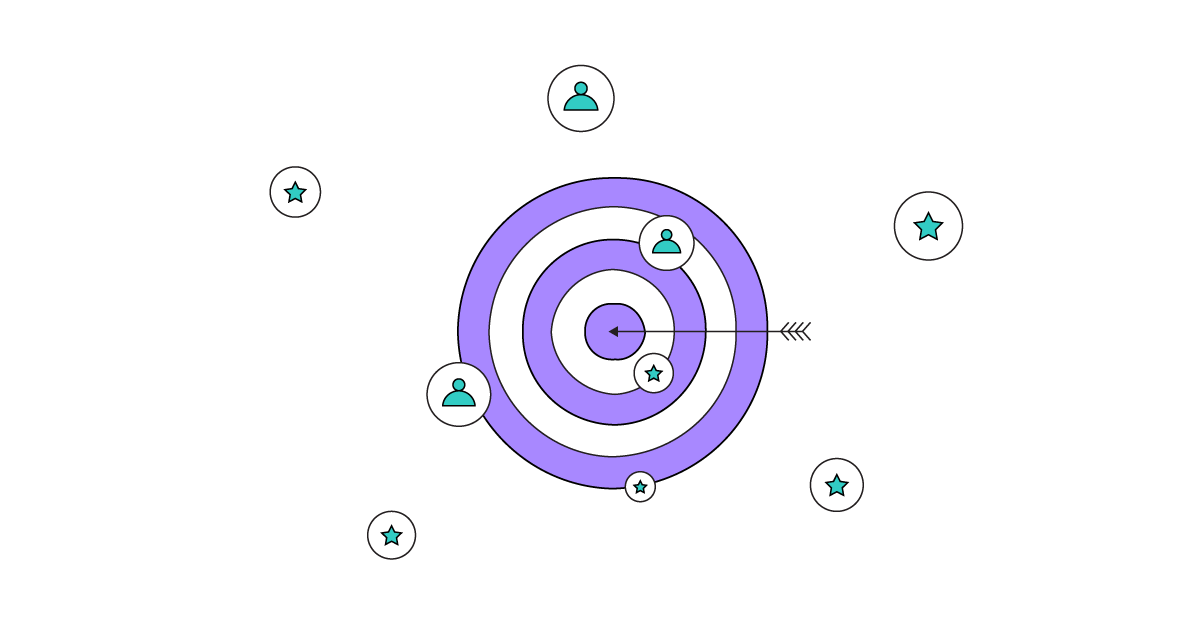 Generally speaking, brand awareness portrays the level to which your target audience is familiar with your brand and how well they recognize it. In other words, it is the extent to which customers are aware of the qualities or image of a particular brand.
"I am what I buy." Branding and brand awareness is such a big part of our social, cultural, and even political life that it is a great factor in shaping our identity.
Have you ever witnessed a small fight between "Apple people" and "Samsung people," heard of "Nike people," or "Trader Joe's" people? This is simply how deep is brand awareness rooted in our everyday life and of course, decision-making processes. This is simply how brand awareness affects our lifestyles and purchase habits so that we don't even think twice before buying a product of a certain brand.
Let's take a more specific example.
It seems impossible to discuss branding and brand awareness without mentioning Apple at least once.
Let's go back to 2006 when Apple introduced its new campaign "Get a Mac." This campaign included a series of commercials, featuring a young guy introducing himself with "Hi, I'm a Mac" and an older man with a blazer and glasses representing another computer brand.
The key concept of the campaign was to portray the idea that the computer you use also signifies what kind of a person you are. Let's be honest, who wouldn't prefer to be a young and cool guy, like a Mac?
Hence, by buying a Mac we identify ourselves with certain emotions, social status, lifestyle. And that is all how brand awareness psychologically affects our identity and decision-making.
Have you ever thought that the reasons we love a certain brand of sneakers probably have more to do with our brains than our feet?
But the role of brand awareness, especially in our current digital world is probably more crucial than ever. So let's dig deeper into why exactly brand awareness can be the foundation of your business.
Why Is Brand Awareness Important?

Eventually, the majority of the time our buying decisions are highly based on how we feel, how we see and value ourselves, and our relationships with others, rather than the superiority of one product or service over the other. And at the end of the day, all of these factors are affected by brand awareness.
Here are some other factors that brand awareness impacts and gains major importance from:
Visibility and brand recognition: Ideally, an effective brand awareness campaign should lead to two interchangeable factors essential for a business's growth, visibility, and recognition. It is no secret that customers are faced with a huge sea of choices every day, and having effective visibility becomes advertising itself leading to being the "popular" or the final choice for the majority of customers.
Customer loyalty: The visibility and recognition of a brand mentioned above also affect the relationship between customers and the brands they use. These two often become primary foundations for building trust with your customers and creating a loyal customer base. The key with this aspect is to also invest and stay true to your company's values, and shared vision, keeping integrity and honesty with your customers, which will keep them in the long run. We will discuss this aspect in more detail later in the article.
Market advantage: The above-mentioned benefits of credibility and visibility automatically generate a more advantageous competition floor for your business. In other words, visibility and credibility make your brand more compatible, which in its turn leads to an increase in your business's ROI and revenue.
Additionally, brand awareness can be the open door towards reaching effective performance-marketing goals, such as sales and lead generation. Try to make people aware of your brand, through a relevant and quality audience, and your chances of generating conversions and dominating the industry will exponentially rise.
Audience Data: Brand awareness plays an important role in collecting valuable data sets about your potential buyers and current audience. With the analysis of the data collected, you can develop unique audience segments, create retargeting strategies, and effectively optimize your future campaigns.
Keep in mind that according to various studies, around 91% of customers are included to buy from a brand with personalized recommendations. Plus, 71% of customers say that they are most likely to buy brands that they are familiar with on social media and you can use this data to your favor with the help of brand awareness.
Brand Awareness Strategy:
Now that we know the primary value of brand awareness for your company's growth it's time to find effective ways to increase brand awareness.
Tips from Digilite's experience through working with our wide range of client base.
Keep a consistent voice and image:
Study-based experience shows that a brand's consistency across various platforms can improve its revenue by around 23%. Moreover, people usually have a negative response to frequent and apparently aimless changes in a brand's image, voice, or values. Your brand's target audience must be able to easily recognize it through time, different platforms, and various campaigns.
A valuable example of a consistent brand can be considered Coca-Cola. The brand's logo and the general image have not changed much since the times it was established. That is one of the leading reasons why around 94% of the world's population can recognize this brand's logo.
It seems that for a successful digital presence having social media pages is mandatory on almost all platforms. However, the quantity should not outweigh the quality, and each social account should be taken seriously for an effective brand awareness strategy. In order to be able to increase brand awareness, you should engage with your audience through comments, messages, and be active in the community by connecting with other brands as well.
Make sure to contact our social media marketing specialists for professional help!
Subscribe to our blogs for similar articles!
Improve customer and product satisfaction:
In the age of internet reviews, unsatisfied customers might be one of the biggest threats for your brand and the way other people will perceive it. Around 81% of US residents take into consideration their friend's recommendations before making a purchase. If that friend will be one of your unsatisfied customers the whole chain of success will be broken. Always make sure to put customers' relationships at the center of your company's focus and its ethical code, and will surely see outstanding results.
Advertise on channels that are right for you:
Various studies show that around 77% of Twitter users appreciate a brand and are inclined to become its customer if their tweet is responded to. This is yet another proof that every social channel has its specification that should be considered when representing your brand and connecting to your target audience. So, make sure to know the specificity of each social platform, the commonalities of its audience, and non written rules of advertising there before putting yourself out for the world to judge.
*Keep in mind that each advertising platform has its own unique demographics. Some platforms have a comparably younger audience, that might not necessarily be in your target. In short, acknowledge your audience and the right platform to find them.
Get influencers to display and advertise your brand:
Having the opportunity to collaborate with influencers has the potential to boost your brand awareness. Since they have an established audience that knows and trusts them, once they mention your product or company, those mentions will eventually expand your reach, increase people's awareness of your product, what you do, and what your company stands for.
A great example of a successful collaboration with influencers is Ikonick. What they do is work directly with influencers. Ikonick provides influencers with art, has them pose with it, and then shares the photos on social media.
You can also invest in brand ambassadors that will promote your brand for a longer duration or whenever ready also collaborate with famous people like singers, sportsmen, artists, and more. Nike should be at the top of our list when speaking about collaboration with famous people. Their commercials and campaigns are well known for including famous stars and athletes, thanks to which most of the time their brand awareness benefited.
Make An Intelligent Use Of SEO:
Do you know that 75% of people will never scroll past the first page on a Google search? This means that you should think of effective strategies and methods to constantly stay on top of searches to increase your brand awareness. One example is to obtain zero-click searches.
In 2019, approximately 55% of all Google searches yielded 0 clicks. This means that the users found what they came for on the results page, and didn't even need to click on the website link. One of the best ways to obtain this is to win featured snippets on Google, which will include the most important content you actually have to offer.
You can achieve this by implementing structured data on your website. It will make your content more readable, engaging to the users, and provide exactly what they are looking for.
Digilite offers great tools and tactics to become a game-changer in the SEO world. Make sure to check our article on finding the right SEO keywords for a deeper look into SEO strategy.
Contact our SEO experts for professional help in ranking higher in search engines.
What Is Brand Affinity?
Generally speaking, brand affinity is all about the emotional experience your customer has about your product or service. Moreover, it's about using those emotions and feelings to strengthen your relationship with the market and boost your business.
We can argue that on a basic level all brand purchases are a mixture of rational, emotional, and behavioral decisions. When speaking about a customer feeling affinity towards a certain brand, the emotional aspect is most likely dominant in this decision-making scenario.
Brand affinity also discusses aspects of shared value between a brand and its "follower," who due to those values are building stronger, more loyal, and longer relationships.
Let's take an example for a better understanding of brand affinity and its impact on your customers.
As mentioned earlier one of the key aspects of brand affinity is through the values your brand shares with your customer. Brand affinity ensures that your primary buyers are emotionally invested in your brand's values and are continuously sharing those values.
Think of Harley Davidson's example. This iconic motorcycle manufacturer presents ideas of freedom, authenticity, and independence as core foundations and values of the brand. These qualities create a cult-like follower base who identifies themselves and their lifestyle with the brand, becoming the foundation for the company's success.
Alaska Airlines' survey can be a great example of a strong brand affinity, as well. During the survey, people were asked about their top preferred airline company, and among the most answered ones were Alaska Airlines. The outstanding aspect of this survey was the fact the majority of the respondents who have chosen this airline have never flown with it before.
This surprising result was primarily because of the powerful personal endorsements and portraits of other passengers who flew with Alaska Airlines previously.
Why Is Brand Affinity Important?
Among the benefits and foundational importance of brand affinity the following aspects should be considered: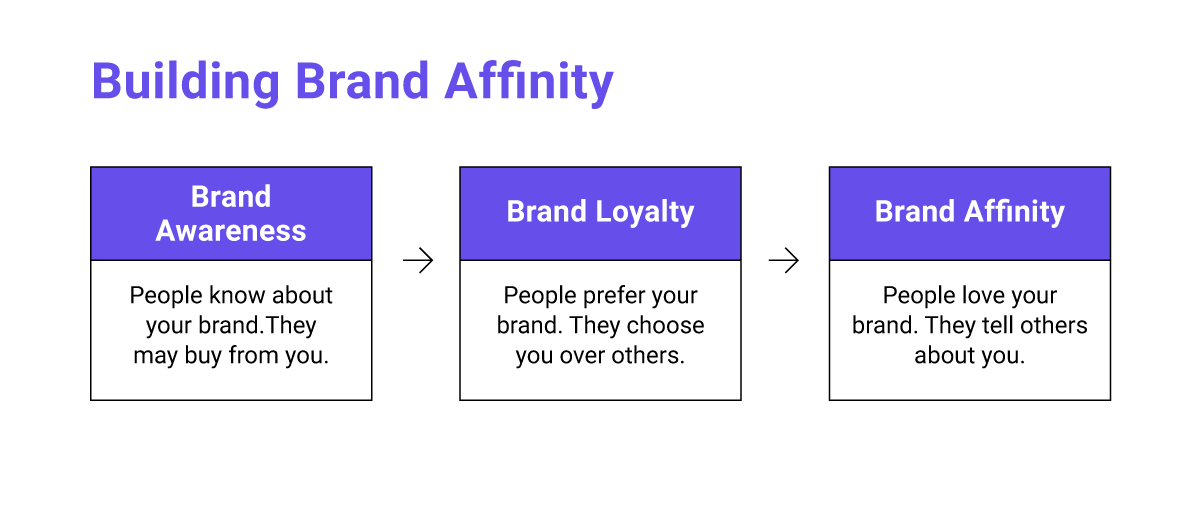 Brand Affinity results in customers' rationalized purchases and decision making:
By having a strong brand affinity your customers become more invested in a sort of personal relationship with your brand. Let's say if you stand for animal rights, or if you are vegan, or if you value companies that are attentive towards waste management and recycling, by being educated and aware that a certain brand has those values you will potentially make a rationalized decision of choosing that brand over the others in the market. This will also result in a longer-term strong relationship with that brand and the shared values it stands for.
Brand Affinity makes it harder for competitors to sway your customers:
If you own a business you should be highly aware of the threat of competition. While it might be almost impossible to avoid competitors, especially for small or medium-sized businesses, you can still minimize its threats thanks to the power of brand affinity.
Let's imagine that your favorite soft drink is Coca-Cola. Of course, there are various other less expensive, or healthier, or even tastier alternatives in the market, but the treasured memories, feelings, and associations connected to the brand make your final decision of staying loyal to this brand and choosing it over the others.
The thing is that regardless of the reasoning, when choosing this brand you show brand affinity towards Coca-Cola that is unshakable.
Brand Affinity creates lots of brand advocates:
Being able to create a strong base of brand advocates should probably be one of the most valued benefits of brand affinity.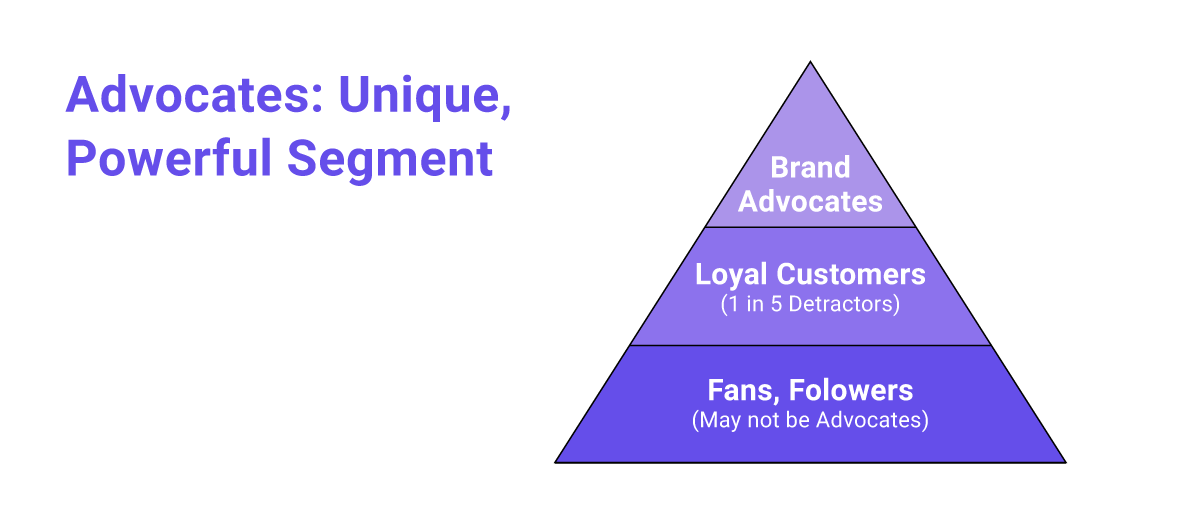 Brand advocates are considered one of the best, most effective, and trusted advertisements for your business. Brand advocates or the people who highly value your brand will do their best to let others know about your company, especially on social platforms and through word-of-mouth marketing. The Alaska Airline example discussed above is a great supportive factor for this point.
Brand Affinity Strategy
If you have already well understood the importance of brand affinity and are ready to take real-life actions to make the best use of it here are some valuable tips for incorporating it into your businesses growth from our team of experts in Digilite.
Let's check them together.
Use the power of data to personalize customer service:
Have you ever heard of the phrase "Data is the king." This might be true for brand affinity, especially in the world of digital marketing and advertising.
It all starts with the right use of data. Make sure to use digital resources like Google Analytics, MailChimp, HubSpot, and others to easily segment your audience into smaller ones and strategically personalize and customize your services and products for them.
Segmenting your customer base through different layers such as their geolocation, demographics, and purchase amounts will help you to create tailor-made communication streams and personalized promotions which will increase customer satisfaction and loyalty.
In this aspect, B2B software company Brainshark is a great example worth analyzing. By using the analytics for the available data they were able to review their free trial users and send corresponding pop-up messages accordingly. The results were quite impressive.
Their registration increased by around 15 percent and its pipeline reached over $1.1 million. Ultimately, personalized communication led to increased brand affinity, which on its turn generated more sales.
Review customer journey and create a seamless customer experience:
Keep in mind that by scaling the sequence of customer interaction and decision making you can easily determine which areas of your services are on the top, and which need more improvement.
Reviewing your customers' buying journey also has the potential of identifying the most significant aspects of engagement with your business, from initial consideration to final purchase.
Besides, making the entire communication experience easier for your customers will automatically make the interaction more comfortable, and pleasant for them, which will increase the chances for them to come back and make a stronger bond with the brand.
In the above-mentioned aspects, Starbucks has a great experience to learn from. The company was one of the first ones in the coffee chain industry to implement online ordering possible for its customers. This obviously was targeted and resulted in developing an easier and more comfortable buying experience. As a result, the strategy was really successful.
But that is not all. Starbucks was also among the first companies in the industry to offer its customers an easy-to-use app-based program. Wondering how it went? Research from The Manifest shows that 48% of respondents reported to regularly use Starbucks' app, which is said to be the most popular overall app in the mentioned survey.
Build trust with your client:
Take a note here, in the foundation of any solid relationship there is always trust.
Especially in the world of B2B business, where typically purchases might be more expensive compared to the B2C world, trust is a primary factor for developing a strong brand affinity and growing your business.
Across the majority of B2B transactions, the client will make sure to feel confident and comfortable with your brand before becoming a business partner.
Being open, transparent, and honest with your clients will not only create gratitude and appreciation, but it will also transform the pre-existing brand loyalty toward becoming brand affinity.
From clear communication of your values, emotional connection, to answering emails in a timely manner, your commitment to the relationship with your customer will eventually lead to high customer satisfaction.
Attract Your Audience on Social Media:
There is no brand affinity without the right audience. Building that audience is often very challenging. However, now, in the times of social media reign, building such an audience might be easier. By using a smart content strategy you can attract and build the right audience for your brand.
Here are some ways to obtain it:
Be active on your social media platforms, post engaging content often.
Constantly interact with your audience. Try to understand their needs and concerns through the comments they are leaving under your posts. Ask them questions, if necessary.
Run social media contests and conduct giveaways, to both gain a higher engagement rate and make the whole process more enjoyable.
Invest in social ads. It will help you get new subscribers, which means you can potentially drive sales in the future.
Demonstrate the USP for your business
Unique Selling Point (USP) is the factor that differentiates your product from that of your competitors. It is the unique value of your brand that you think makes your business stand out in the market. The importance of showcasing your USP is to let your customers know that you have something unique and valuable to offer. This will lead to increasing your brand affinity and the overall customer experience with your brand.
One productive way to do this is to find a niche area. In other words, you have to analyze your overall performance and understand what you do best. You should also keep track of your competitors who offer similar products/services and try to think of ways to specialize your brand even more and stand out.
Another way is to stay relevant. Always check out what is trendy at the moment and how you can connect your brand to it. In this way, you will have something different to offer that will be timely.
Both Brand Awareness and Brand Affinity are important and decisive factors for the growth of your business. Although their concepts might intersect often, they are also very different. Consequently, they have different methods, tools, and strategies to be increased and implemented.
By using the tips mentioned in this article and increasing your brand awareness and brand affinity, you will make your business more successful, gain popularity, and standing out in the business world.