At first, let's understand what is Social Media Reputation Management?
Social media reputation management is the process of tracking, analyzing and ultimately eliminating negative social media materials about your company to improve your brand's name. If you succeed, social media reputation management will build your loyalty to customers, which strengthens their trust in your brand.
Your online reputation defines how others see your business when they search for or stumble upon it online.
Therefore, online reputation management (ORM) actively influences what information people will find.
For example, various tools and strategies can help you increase damaging and harmful content further down the Google search engine results pages (SERPs) by ranking your own or third-party more desirable material above it. Why is that important? Because the top 5 listings in Google's search results get about two-thirds of all clicks.
Here's how to start creating and managing a healthy online reputation for your business using these 5 steps.
#1 Create a social media strategy
Create business pages on Facebook, Twitter, LinkedIn, etc, depending on your industry and brand. Each platform requires a specific approach and content, and it will take some time to develop an individual strategy for what works best for your brand on each channel.
It's important to consider how often you post, the type of content you post, the wording, and the tone of voice.
#2 Maintain an active presence
You need to make it a priority to maintain an active presence on each social channel because social media users like consistency and many of them have come to expect regular updates from the brands they follow. This is helpful for the content strategy creation – but it also extends to your responses on social media.
#3 Respond to negative comments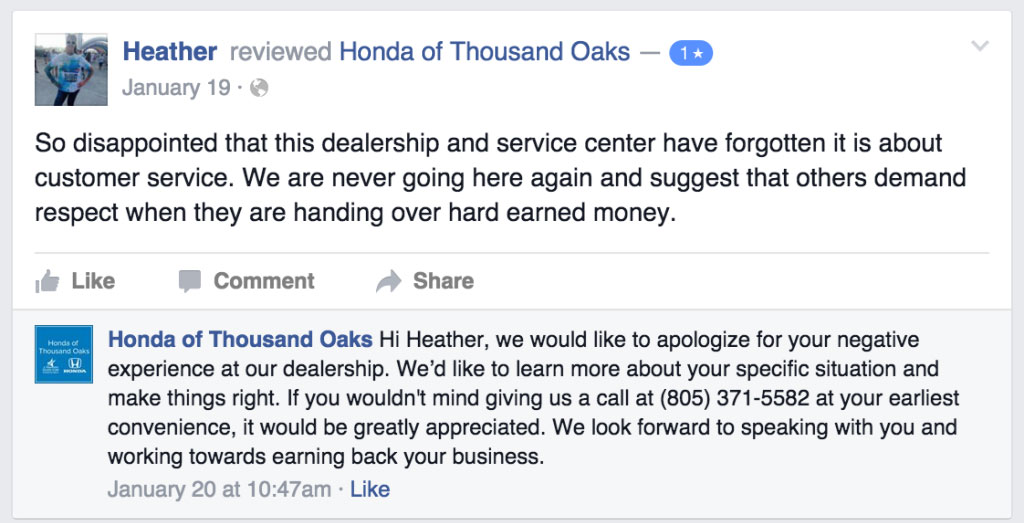 Your social media strategy should be designed to help you interact with your target audience. However, given the nature of the Internet, there will likely come a time when someone voices a negative comment or opinion. It's a complete disaster, or an opportunity to show off great PR skills.
Firstly, resist the way to simply delete the comment. Stay calm. DON'T USE CAPS LOCK. And avoid strong punctuation!!! Never rely on your opinion to get your point across. Stick to the facts. This may mean acknowledging facts that favor the opposition, and that's okay. Show respect for other people's opinions.
#4 Monitor the conversation
You should know about the larger conversation taking place around your brand. Moreover, thanks to the search features on most platforms, it's easy enough for other users to find negative comments.
Thankfully, analyzing what's said about your company isn't nearly as difficult as it may sound. Tools like Hoot Suite and Tweetdeck will help you to see when your brand is mentioned, even if users don't directly tag your social accounts.
#5 Assess your current online reputation
Begin by defining what your actual reputation is. Ask your friends, family, customers, partners, and stakeholders 'What comes to your mind when you hear my business's name?". Understand what people already think about you? Does your online presence fit your reputation in your offline network?
Contact our marketing team, let's raise your online reputation through digital tools!