301 vs. 302 redirects. Not sure about which one to use?
You are not the only one!
Many webmasters want to understand the difference between 301 and 302 redirects.
They work the same for a user, but for the search engines, they are quite different things.
Search engines sense the difference of these redirects and handle them differently.
If you choose a redirect option which is not right in a certain situation, search engines will become confused, and it will quickly result in a loss of traffic.
So it's important to know the difference between the two because picking the wrong version will impact your SEO efforts.
A redirect is a way to send users and of course search engines to a different URL from the one they initially requested.
You will need to redirect a page to a new location for a variety of reasons, including:
The URL is broken.
You have a new website or a page.
Your page is under construction and you want users to temporarily go to a different page.
Picking the right redirect guarantees that you will keep your current rankings by continuing to solidify the reputation you have built so far for your brand via content and link building.
So there is a question: which redirect is best for your SEO?
What is a 301 redirect?
A 301 redirect means that a website or page has permanently moved to a new location.
Technically the word "permanent" means around a year or longer. After a year, you will need to check to see if people are still being redirected to your site.
If they are, figure out where they're coming from and try to fix the source before you cancel the redirect.
When Should You Use 301 Redirects?
Many webmasters use this type of redirect when they buy domains tending to send to their main domain, typically they are domains with high authority.
Another case to use a 301 redirect when determining which domain is your default site: "www.yourwebsite.com" or just "yoursite.com"
Statistics show that users are leaving out the "www" when writing or typing out website names, so the permanent 301 redirects will guarantee that the users will end up in your site even without typing "www".
What is a 302 redirect?
302 redirect means that a website or a page has been moved temporarily.
When Should You Use 302 Redirects?
You will need to use this redirect option if you want to send your website users to a new location for a short period of time, such as when your website is under construction, or you are redesigning, updating, or fixing some important errors.
You will only use 302 redirects if you aim eventually bring the old page back.
You can also use 302 if you need to test out a new page and get some user feedback without hurting your rankings from the original page.
How Do Both Redirects Impact SEO?
It is important to know that when you use 301, Google removes the old page from the index and link value from that page is being transferred to the new one.
When used correctly, a 302 redirect will not hurt your SEO efforts.
When you choose the 302 redirect option, the original page will remain indexed in Google and the old page's link value won't be transferred to the new URL because Google knows that this is just temporary. So you will retain your website's traffic value and domain authority that your page has.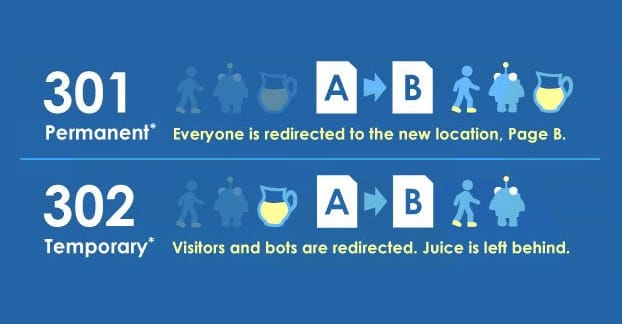 The Key Takeaway
Know your goals while using the redirects.
Educate yourself on the differences, and make sure you're using the right redirect option for the right outcome.
And finally, measure your rankings to ensure that Google is able to index your new pages and that you haven't made an error that will cause your rankings to drop.
More Resources:
Your Start-to-Finish Guide to Using Google's Disavow Tool
Google: Don't Worry About Malicious Backlinks, We Ignore Them