SMB LAW
Brand Creation
SMB Law provides immigration solutions for anything from small startups to multinational corporations in relocating talents to Canada. We began the brand identity creation process by identifying the key characteristics and values of a business immigration law firm. Professionalism, confidence, and reliability were among the most important.
From here, the branding process revolved around translating these values into each element we designed for SMB Law. For the logo, we settled on a dark, navy blue background and white typography. We paired both bold and slim font text on the logo for the contrast between the name and purpose of the firm.
Full Website Design & Development
With a completed branding process, it became possible to envision the full design of SMB Law's new website. We maintained a primarily neutral color palette by including the navy blue from the logo and adding all images in black-and-white tint. With the emphasis on Canadian business immigration, the red elements of the Canadian flag were left with a bright hue in contrast with the desaturated images. Another appealing design choice was the addition of sharp, slanted lines in various corners of the webpage to establish the confidence of the brand, once again, Overall, the web design aimed to be clutter-free and showcase the most vital information on each page. All of this combined with dedicated pages for services, blogs, and contacts along with a user-friendly interface led to the launch of SMB's fresh, new website.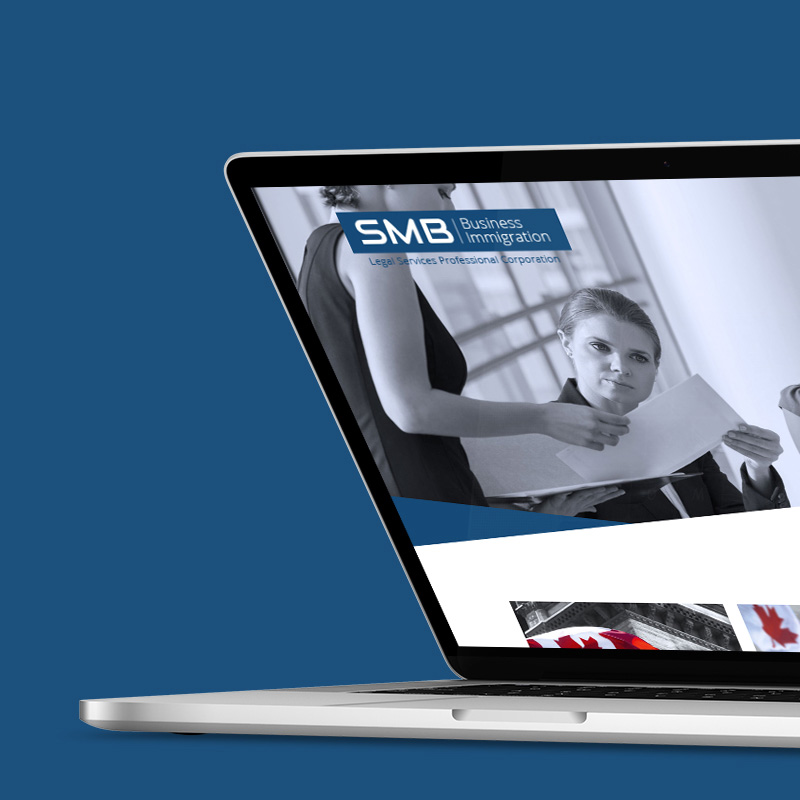 DESIGN PROCESS
"In the end, we achieved the execution of a sophisticated branding and development project that brought SMB Law's vision to life.