Ready to take the next step toward becoming a social business?
The marketing experts at HootSuite and Edelman have shared the knowledge, trends, tactics, and strategies that will position your organization for success in 2017 and beyond.
So, here's what you need to know.
We're facing 3 key challenges in 2017:
Organic reach will continue to decline for brands.
Pay-to-Play will increase as brands use social advertising to combat the decline of organic reach.
With increased investment in social, marketers need to shift away from vanity metrics such as "likes" and "comments".
SOCIAL CATCHES UP TO SEARCH FOR DIVERSITY.
Trend #1:
Social usage isn't slowing. It's accelerating, especially as a discovery and research tool to find and buy from brands.
Social media-this is where people are actually going to find the information they are looking for.
Global adoption of Social is growing year by year.
98% of digital consumers are using social networks.
We are seeing the decline of traditional websites. People are spending more time in social to find something to read and talk to brands. And over the next few years we are likely to see the decline of traditional websites.
As an example, Vox is now publishing directly to social networks and apps.
BuzzFeed has a team figuring out what BuzzFeed might look like without a website at the middle.
Facebook marketplace, Instagram's Tap button – all skipping search and websites.
How to Get Started with Social Discovery
Know your audience – Older buyers tend to use search engines to research products; millennials will use social, skipping search. Make sure your strategy matches the buyer you're trying to reach.
Focus on credibility – Consumers are researching products on social channels. Make sure you have third party content (such as customer stories, video reviews of products by influencers) showing up in social searches.
Distribute straight to social – Explore Medium, Facebook Instant Articles, weekly Facebook Live chats, Instagram AMAa, and Twitter Chats as a tactics to create and publish content straight to social.
Rethink your metrics – Page views and web traffic are the default metrics of success. But as more and more brands publish straight to social, you'll need to rethink what metrics to track in order to motivate your team.
SOCIAL COMMERCE SHOWS NEW PROMISE
Trend #2:
Social commerce has been hyped before. But recent developments offer new ways to drive revenue from social.
How to Get Started with Social Commerce
Experiment – Social commerce has a lot of opportunities but isn't right for every brand. Experiment and test with a product launch or special promotion.
Persuade with video – Video can help to showcase products in more detail. Alleviate any buyer concerns, educate them about the features, and persuade prospects with specifics, facts and customer testimonials.
Pick a challenge. Solve it together – Social commerce sits between ecommerce and social teams. Pick a common goal and run a pilot program together. Compare results.
Make buying fun – North American and European customers aren't as comfortable with social commerce. Use novelty to your advantage with flash sales, fun product combinations, and rewards for buying directly from social.
DARK SOCIAL RISING
Trend #3:
Dark social is challenging traditional ways of measuring social ROI. But there are ways to combat it.
For those who don't know, Dark social is a term to refer to the social sharing of content that occurs outside of what can be measured by Web analytics programs. This mostly occurs when a link is sent via online chat or email, rather than shared over a social media platform, from which referrals can be measured.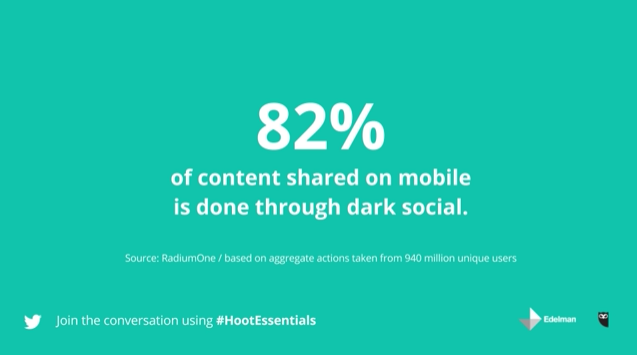 VIDEO IGNITES  SOCIAL ADVERTISING
Trend #4:
Last year, social video stole the show. In 2017, social video advertising will be a key strategic focus.
65% of marketers prioritize social video platforms such as Facebook, Snapchat and Twitter over traditional web video (Vevo, YouTube).
70% of marketers plan to use social video advertising in the next 12 months.
65% of marketers will focus on Facebook video advertising in 2017 followed by YouTube at 39%, Instagram 21.7%.
41% of marketers say that optimizing paid social ads is a key priority for them.
How to Get Started with Video Ads
Short and Visual – Keep it short (under 30 seconds) and remember audiences will likely watch with their audio turned off. Focus on simple messages that can be understood without audio.
Test short clips – Producing a lot of short clips helps you quickly see what works and see different creative product results. This can influence future creative and give you ideas for bigger budget.
Focus on customer stories – Go beyond brand awareness and help prospects evaluate your product. Example: Artifact Uprising showcases how customers use their photobooks to share memories.
ORGANIZATIONS TURN TO CONNECTED WORKFORCES
Trend #5:
Social began as a department-specific strategy. But leaders are expanding social to tap into power of connected workforces.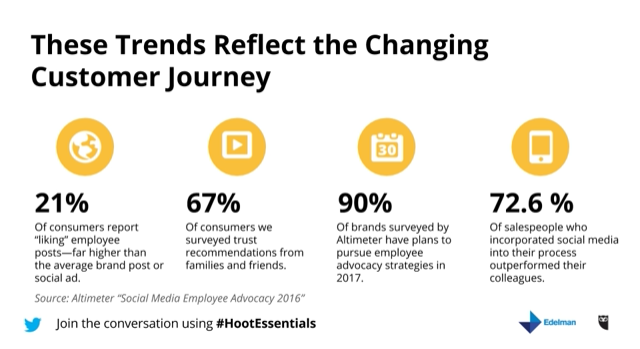 So even if you've already finished planning your social media strategy, this 2017 Social Media Trends Toolkit gives you the resources you need to really take advantage of the top trends.