There are now trillions of searches on Google.com and over half of those searches happen on smartphones.
In the announcement, Ramaswamy writes: "To help marketers succeed in this mobile-first world, we have redesigned AdWords — from the ground-up — and re-thought everything from creatives and bidding, to workflow and measurement."
Here are the changes that have come to AdWords
Expanded Text Ads
Responsive Ads for Display
Individual Bid Adjustments for Device Types
Local Search Ads for Google.com & Google Maps
NEW! Expanded Text Ads
Have you ever thought that while advertising you'd be able to write more characters? It has been revealed that the elimination of sidebar ads is the preparation for launching the new product – Expanded Text Ads.
Luckily for you, now you will have a bigger room to sell your goods on the SERPs.
Two 30 character headlines, 80 characters for description, and an auto-extracted URL with customizable domain path.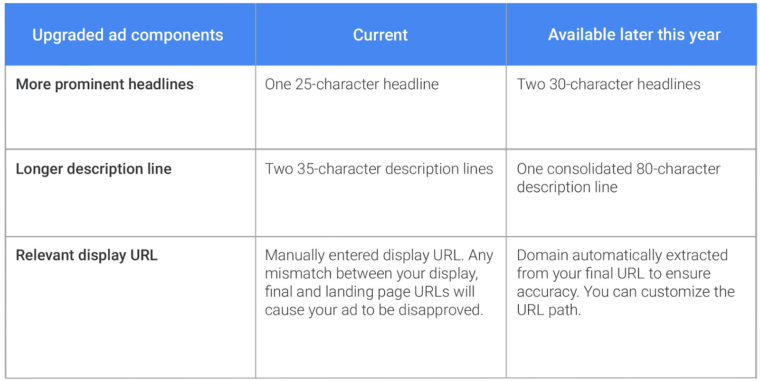 Responsive Ads for Display.
Get ready for responsive display ads. This is A-MA-ZING! Soon you will just have to give Google a URL, headline, description and the visual, and magic will happen. Google will create responsive display ads for you.
This is really cool.
Individual Bid Adjustments for Device Types
It is an open secret that bid adjustments are pretty important things that let you know how much you are about to spend for this or that ad.
Today, Google lets you set an individual bid adjustment based on the device type, so you will be able to choose to bid more or less for mobile, desktop or tablet.
Local Search Ads for Google.com & Google Maps
Google has revealed another great feature called "next generation" of local search. The ads will appear within Google maps, and also across Google.com.
The searchers will be able to clearly see the special offers or browse available inventory right from the Google maps ad.
These are really awesome changes for advertisers and also for customers that can find deals much faster.
OVER TO YOU!
Find out how you can REALLY do in AdWords. For more details and assistance about these new changes, Digilite as a Google certified Partner is standing firm to help you to take full advantage from your business ads.