As discussed in the part one of our "Marketing After COVID-19" series, the situation with the novel pandemic can become an opportunity to thrive for your business. In the scenario of flourishing your business instead of making it sink in the challenges of the post COVID world, having a well-planned marketing strategy should be a priority. Digilite is here to help in this journey with a detailed guide on marketing activities that will boost your business in the post COVID world. 
Before turning to actual marketing practices, let's review some of the important insights on what is happening in the current world of marketing and its relation to the pandemic.
A recent study conducted by the American Marketing Association in collaboration with the Duke University's Fuqua School of Business presents the primary aspects in which the marketing strategy of top brands has changed due to the pandemic. The study includes the participation of various CMOs of top brands in a number of surveys.
The key findings of the study highlight some the following factors:
Trusted relationships of customers as a priority:
As the results from the survey show, despite the economic decline, CMOs believe that customers will still invest more in the brands that show high social activism and contribute in helping to reduce the effects of the pandemic. Customers will stay loyal to the brands in the long run that share their values towards helping others and taking responsibility in minimizing the effects of COVID-19.
Digital and online marketing are essentials:
As the same survey shows, there was around 43% rise in online sales between February and May of 2020. This also represents around 19.3% of all sales during the same period. Online business has become such a necessity that CMOs believe it will stay and evolve even after the pandemic, as customers are becoming more open to online solutions. While the respondents expect that the overall marketing budget will decrease by around 8-10%, due to changes in online solutions, digital marketing will take a greater share in the total marketing spendings.
Social media is an essential tool in brand building:
CMOs predict and invest in the idea of customers prioritizing trust and loyalty to brands. As a result, building the right brand can become the game-changer in this new post-COVID era marketing, being one of the powerful tools to engage with potential and existing customers. The majority of the respondents, around 84% report using social media as a primary tool for brand building. Moreover, around 54% of them declared using the power of social media for customer retention during the pandemic. This reflects the 74% increase in the social media budget since February. Social media played an important role in brands previously as well, but it seems that now the pandemic succeeded in shifting the marketing leader's opinion on its true power to another extent.
Improvisation and resourcefulness are the pillars of success:
Most of the marketers taking part in the survey reported being unprepared for the pandemic and raise the importance of investing more in the improvisational (pivotal) skills of specialists to be able to deal with unforeseen events. This suggests more training to boost creative and critical thinking, managing uncertainty, and innovation within the workplace.
Tips for marketing after COVID-19
Based on the changes in various industry sectors, as well as insights from the above-mentioned professional opinion on the given pandemic here are some valuable tips on getting back to shape through effective marketing after COVID.
Effectively communicate about your company's safety measurements
It's not the first time we mention trust and safety in the article. Mainly because the situation concerns the health and wellbeing of other people.
As we've discussed above, the market has changed a lot due to the pandemic. No matter if you use masks in your workplace, limit the working hours or the number of people in the working environment, your day-to-day working activities have definitely changed and your customers should know about that.
This way you will not only be transparent and honest but will also show that you care about the safety of your customers and employees and take all of the required measurements to minimize the harm of the pandemic.
Let's review a great example. Due to the pandemic, Dunkin Donuts started to send explanatory emails on what are the activities of the brand to ensure everyone's safety. While having no promotional content, they have also included a video depicting the changes to their workflow and their health practices.
The email is simply an honest conversation with the customers explaining what they can expect from the brand, with almost no commercial language.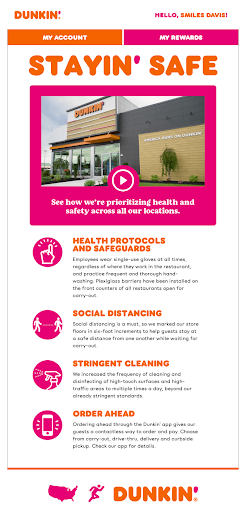 Tell customers about changes to your service:
This tip goes alongside the first one. Any changes in your shipping time, product availability, or pricing, your business's location, and more should be clearly communicated and available for your customers.
While you want to avoid any commercial language in the safety measurement email, in this one you can try to use some. Keep in mind though, that this is not the right time to be "salesy."
Walgreen, for example, clearly communicates through their email in what aspects they can support their customers during the pandemic, as well as changes in their working hours and online availability.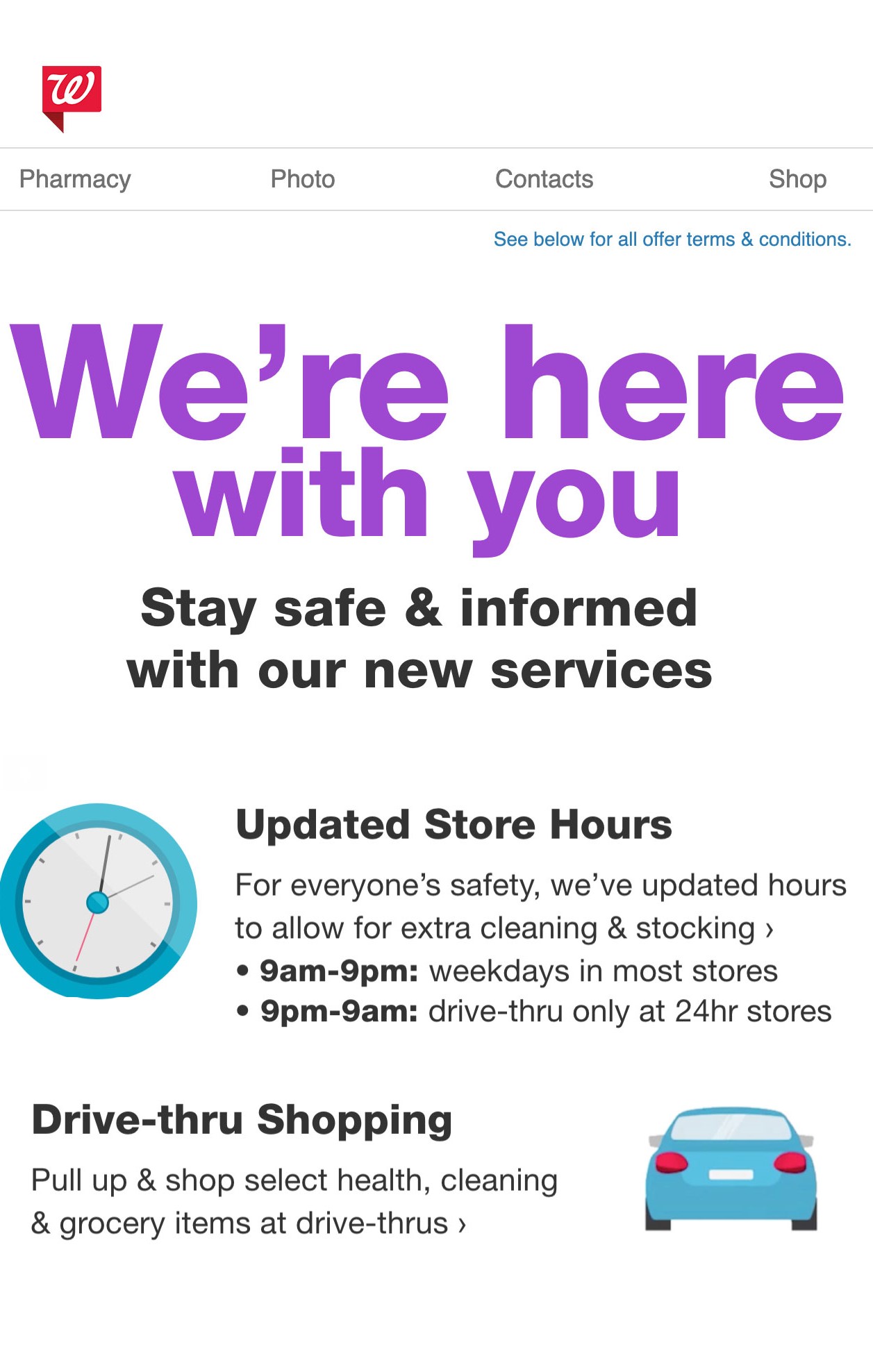 Make better use of additional channels:
We have already discussed the importance of social media and digital marketing before.
As the research from Forbes shows we witness around 61% growth in social media engagement since the beginning of the virus.
As we all are spending more time on social media than we used to before, it is the perfect time to refresh your SMM strategy and take your digital presence to a whole new level.
If you are already feeling comfortable with your SMM efforts, it is also a great time to think about more effective ways to optimise your social media content to communicate with your customers. Here is an example of an Instagram post where we used the opportunity to let our audience know about our position on the pandemic and possible changes in our approach.
Likewise, it can be a great time to try to implement the benefits of chatbots in your business to boost your marketing objectives. As you are just getting used to the "new normal" your customers will have a lot of questions on various platforms and channels. A highly effective way to optimize all of those is through the use of chatbots.
If you want to know more about the use of chatbots in businesses or how to make one for your business make sure to check our blogs!
Various brands have also been investing a lot of effort and resources in video marketing, which can be a really effective way in educating your audience and communicating long messages in a fun and engaging way other than text.
At the same time, while working from home many customers have more time to watch video content, and you can use this aspect to your benefit.
Always be ready to quickly adapt to any give obstacle:
COVID-19 showed us the importance of quick decision-making and communication. As the situation was changing really fast, all of us were forced to make not well-planned actions to save our businesses.
Anticipate and prepare for challenges:
The situation with COVID-19 makes this time a perfect one to review our crisis management plans and research more in the aspects connected to crisis situations and the ways businesses can operate during those.
Develop different ways to receive feedback:
Alongside keeping the right communication channels, listening to your partners, customers, and employees are critical for the success of your business. Try to incorporate one-on-one conversations with your partners in your marketing strategy, include social media polls to keep connected to your customers, send valuable emails to your employees, and more. Try to come up with as many ideas of collecting feedback as possible.
Pay attention to the analysis of your sales data, customer behavior, and ROI:
It is no surprise that your sales and marketing objectives go hand in hand. Pay close attention to the data relating to your customer behavior and sales in order to make intelligent decisions in the given situation. Conduct further research into how your specific industry is affected by COVID-19 and incorporate the results in your future marketing efforts.
Analyze the overall community response:
Keeping a good relationship with your customers will definitely help you recover from the pandemic faster. Make sure to pay close attention to any feedback from the customers and try to address those accordingly. Don't forget to analyze your competitors in order to stay one step ahead. Make sure to maintain healthy communication channels with other stakeholders in the industry and show your gratitude towards everyone involved.
The effects of COVID-19 continue to be a major part of our professional and personal lives. We change as customers and business operators, and those changes leave a long-lasting effect on our economy and business culture.
One way to effectively navigate through these changes is the intelligent use of your marketing strategy. Using the above-mentioned tips and recommendations you can still benefit from this situation and strategically reopen your business.
Keep in mind that you don't have to go through these changes alone. Digilite offers a wide range of marketing services specifically targeted in boosting your business in the post COVID world.
Working in the fast-changing world of digital marketing is already second nature to us. We are experts in providing quick and effective solutions for the growth of your business in such difficult times.
So why not reach amazing results together?!
Let us turn the odds to your favor! Get a quote for your marketing needs now!