The economic recession caused by the recent pandemic (COVID-19) has drastically affected our lifestyles, altered consumer behavior, the way we purchase things, our media habits, and transformed marketing performances and strategies. Yet we are still discovering only the surface of the iceberg, as these changes are expected to stay long after the period of the pandemic itself.
COVID-19 resulted in an unexpected economic crisis that has the potential to affect the majority of industries. Due to closed borders, travel restrictions, and stay home orders many countries are facing historical challenges and dropdowns. For example, France's economy is expected to drop by 8% (Statistica 2020) facing an economic recession during 2020. US retail sales decreased by a historical 8.7% in March, and are still unfortunately likely to drop by (at least) a further 20% according to the report of the National Retail Federation.
The economy in Canada underwent its worst 3-month decline from February to April and proceeded its recovery during May-June. According to Statistics Canada, the real gross domestic product (GDP) shrank at an annualized rate of 38.7% for the quarter. As for Australia, GDP dropped by 7% in the June quarter.
These numbers will change over time and continue to affect the business world for almost all sectors. However, our current actions and response plans have a great potential of changing the numbers to our benefit.d.
Various businesses have already started to reopen and come back to their "usual" working environment, some businesses changed their business model to adjust to the new environment, some completely closed while others tried to use the situation to their benefit.
Armed with statistical data and analysis over the last decade, and with insights on how the COVID-19 has affected the global economy and changes in customer behavior, it is time to figure out the best strategies to adjust your business's marketing activities to effectively tackle these challenges.
To help small businesses use this situation as an opportunity for growth, our marketing specialists have created this detailed guide on post-COVID era marketing, providing statistical insights on how the pandemic affected various businesses, industries, and the general economy, as well as supplying you with a comprehensive marketing strategy.
The Impact of COVID-19 On Businesses:

The recent pandemic is a great reminder for all of us that pandemics, or some rarely occurring catastrophes and phenomena, have happened in the past and will surely visit us again in the future. While sometimes we cannot forestall such pandemics from emerging, we can still take preparing actions to minimize the harm. COVID-19 resulted in severe outcomes for almost all countries worldwide and therefore significantly changed the way businesses and consumers operate.
While societies have been affected by similar pandemics before, the long-term behavioral, societal, and economic consequences are hard to precisely estimate, because the prior pandemics were not examined to a great extent in the past.
Speaking of the effects on the societal level, it seems that we were almost completely unprepared for this pandemic, considering the fact that our societies are more open than ever. Seemingly, the core principle of our society is concentrated more on the aspect of gaining economic benefits rather than ensuring safety. We heavily rely on importing products such as food, medical equipment, and energy compared to sourcing them from closer places. In this scenario with COVID-19, these methods brought to the surface the dangerous aspect of spreading the infection when shipping goods to long distances and involving complex delivery road maps. Accordingly, they became a matter of change which gave us the alternative of reviewing the safety of importing, especially during crisis situations.
In addition to the changes in channels our societies communicate and interface through, COVID-19 led to significant alterations in market trends and consumer behaviors.
Changes In The Market:
Many well-known brands in various industries are about to go bankrupt as consumers continue to stay at home and various industries are shut down. For instance, different US companies such as JCPenney, Neiman Marcus, Sears, J. Crew, and more are put under enormous financial pressure. Let's take the travel industry as an example, it is one of the most affected areas of concern, as around 80% of hotel rooms are empty, airlines laid off approximately 90% of their workforce, and international tourism is not in its best shape.
Moreover, various conferences, sports events, large gatherings, and cultural establishments such as museums and galleries are canceled or shut off as well. Some personal care and consulting services such as gyms, taxis, hairdressers have also permanently stopped operating. Finally, offices and educational centers have been highly affected by this situation and are calling for some quick changes in their operational systems, online classes and training sessions, as well as remote work.
It is worth noticing though, that while some companies and industries are struggling others seem to be benefiting in their markets. Noticeably, as according to the data from May Refinitiv reports that Alphabet, Apple, Amazon, Facebook and Microsoft have announced 19 deals this year, which are some of the fastest-paced acquisitions to this date since 2015. In March, for example, Facebook announced its largest international investment ($5.7bn) in an Indian telecoms operator Reliance Jio.
This scenario is true for various Internet-based companies, such as the ones providing online entertainment, online shopping, education, remote work, food delivery, and more. Consequently, people seem to change their consumption patterns, raising the demand for snacks, alcohol, and cleaning products that are connected to stay home order and internet use. Other general industries that seem to benefit from the current situation with the pandemic can be considered healthcare and medication industries.
Generally, markets are assumed to be static, due to their low changing nature. However, this pandemic yet again showed us that markets can rather be very dynamic. Moreover, it was also a great reminder that markets are not just firms or organizations. They are dynamic ecosystems that consist of various organisms such as public organizations, businesses, customers, etc.
As a result, the new reality created by the pandemic is also a wonderful chance of studying the nature of markets, how they are created, and how fast they can disappear. Additionally, as we witness the vanishing of various solutions in the market, the pandemic raises the need to discover if those will be replaced by the new ones or not (e.g. physical teaching versus on-line teaching, consumption engines versus electrical ones, and more.)
Obviously, in such scenarios, endless questions arise on the ways companies can prepare for similar situations, and be more flexible in handling the upcoming challenges to enhance their competitive advantage.
In our new blog series, we attempt to give valuable insights on most of these questions. Make sure to subscribe to our blogs to keep updated on the marketing and advertising trends in the post COVID era.
Changes in Customer Behavior:
It seems that social distancing and stay-at-home orders have become an integral part of our everyday lives. But considering the fact that we are social beings, staying isolated for long periods can have some harmful consequences for us. Feelings of loneliness, depression, have been connected to impoverished cognitive performance. Unfortunately, there are various indications that it is happening currently because statistics show an increase in domestic violence, growth in the sales of firearms, and neighbors' quarrels.
On the other side, we can also see some more positive changes caused by social distancing that needs more research. Due to more time spending in their homes, people have started to work on developing new skills, and take more care of the environment they live in. Learning a new language, exercising more, and trying to get fit, reading a book, or doing a puzzle can be relatable to most of us, due to staying at home orders. Statistics show that there are also more purchases in cleaning products, and recycling of trash.
The contradictory effects of the pandemic are yet another indicator that our behavior and the current situation with COVID-19 are really complex and need further examination for precise answers.
Noticeably, another important consequence of the lockdown that directly affects the business world, is the increase in internet and social media usage.
We already know from previous research that people who feel lonely tend to use social media more. In some cases, they can even prefer social media over physical interactions. The current situation made social media not only the core aspect of communication and socializing, but it also became the platform for our purchases and news, having more power over our decision-making than before.
Social media seems to slowly dominate our real lives and definitely changed our lifestyle in various ways. It also changes the way we do business and interact with customers. But how to benefit from it? Keep reading to get to know specific tips in using social media effectively for the growth of your business.
Key Areas of Focus For Organisations: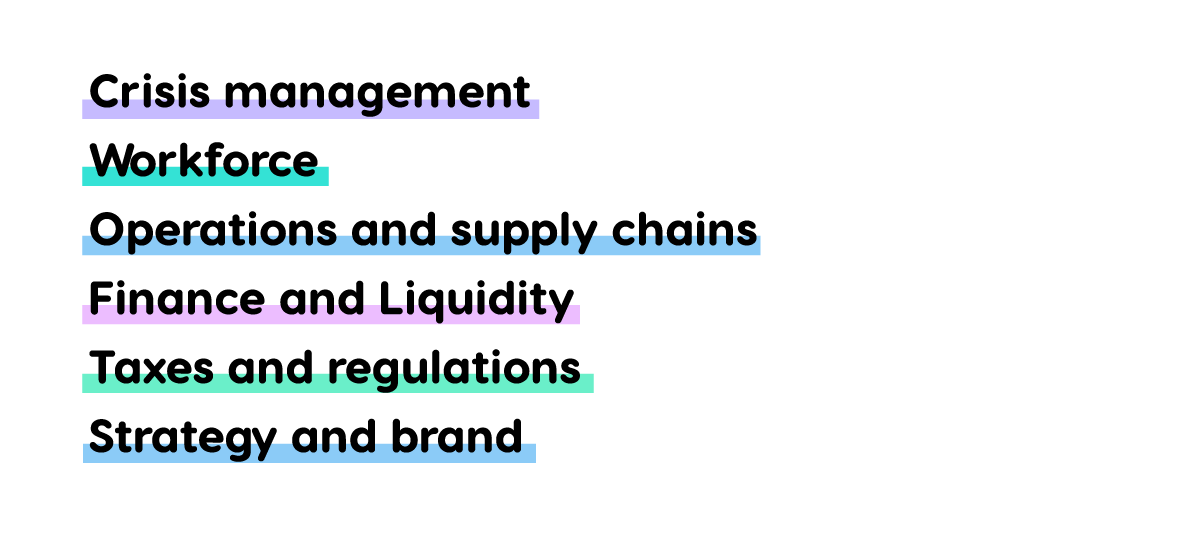 All of these changes in the market and customer behavior led to six main areas of focus for organisations.
1. Crisis management and response:
Due to the pandemic crisis teams and plans were faced with unexpected variables in their business operations. Many companies were successful in developing and implementing strategic incident management plans to minimise the harm of the pandemic. 
Wondering what you can do now for your businesses?
Here are some tips from Digilite:
If you have a crisis management team, sharpen its effectiveness for a better mobilisation of your responses in the immediate occurrence of the crisis, which can help your company transition into what's next.
As you try to focus on bringing people back, make sure to keep your company's response up to date and based on specialized opinion.
2. Workforce
Five important areas should be the center of your priorities for your company:
Protect people: Make sure to provide effective helping measurements for the emotional and physical well-being of your employees.
Prepare for recovery: Develop workforce planning with an effective business and marketing strategy to easily recover from the pandemic.
Communicate effectively in global uncertainty: Communication is the key, especially in such uncertain situations. So, make sure to keep quick, and responsible communication not only with your customers but also with your employees and partners.
Assess workforce costs: Make sure to balance the potential need to cut off some costs.
Maintain the continuity of work: Make sure to provide your employees with the necessary resources to effectively continue their working process, especially during times of remote work.
3. Operations and supply chains
Here is what you can do to effectively optimise your supply chains.
Make sure to identify alternative supply chains, specifically considering the fact that the virus can emerge in various territories.
Make sure to adapt distribution channels for your customers
4. Finance and Liquidity
Noticeably, some businesses face lower revenue with less cash flow. Hence, during an uncertain economic situation it is really important to manage your cash flow ahead in time.
5. Tax, trade and regulations
In the given situation it is crucial for your business to consider the economic, societal, and political context of events, in order to conduct informed and efficient decisions.
Make sure to properly manage cash taxes, apply for available refunds and stay informed about local government responses to COVID.
6. Strategy and brand
Make sure to consider available digital transformation opportunities to shift towards remote work and effectively use IT infrastructure.
Concluding Thoughts:
A global crisis like COVID-19 showed us that difficult situations can either paralyse businesses or give them an opportunity to thrive.
You can drive your business through the given situation by implementing the right marketing strategy. Make sure to stay tuned for part two of our "Marketing After COVID-19" series where we share best marketing practices and strategies for successful business reopenings.
Meanwhile, start your recovery journey with our help by contacting us NOW!