Sometimes, the passion for giving better than others is enough to succeed. A small move can make a positive impact when you are in a tech business and want to help others grow. This can even make your venture known for your specialized service and benefit the tech fraternity.
The same happened with Hovsep Seraydarian in 2006 when he founded Digilite in Canada to benefit the world by providing excellent digital marketing, development, and designing services and delivering outstanding results.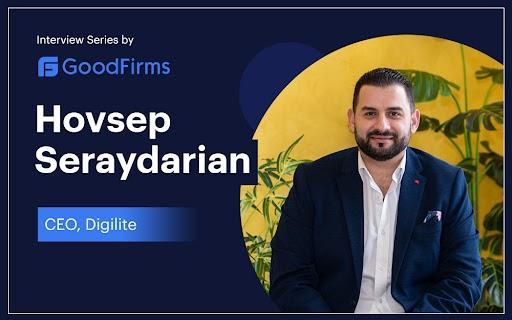 Digilite is a global marketing agency and an award-winning web design studio that serves its global client base by providing extraordinary boutique web marketing, design, and development solutions.
In an interview with a GoodFirms representative, Hovsep interestingly described how the company got into formation and working to support tech businesses, along with briefing about his role as a CEO.
Hovsep Seraydarian always dreamt of bringing effective online marketing strategies and, thus, brought a team of skilled and experienced professionals under the roof of Digilite to help companies navigate the complex digital landscape and achieve their objectives. His passion for digital creations and improving the life of people through creativity and cutting-edge technology gave the company a new ray of success under his esteemed guidance and supervision. As a CEO, he oversees all the company's operations and strategic direction, ensuring that the services they deliver are best for their client businesses. 
In-House Working Model
At Digilite, he says they hire highly skilled and talented professionals with direct control over the quality of work. They ensure all team members from their in-house team are aligned with their vision and values while working and create a collaborative environment to provide seamless experiences to their clients.
Major Service Categories
Mr. CEO talks about several important factors that are responsible and helpful for making Digilite different from its competitors. 
The team comprises highly skilled, well-trained, and experienced professionals who remain up-to-date with industry trends and practices.
The team implements the holistic approach of software development and digital marketing, involving multiple strategies to craft tailored tech solutions for their clients. 
They give priority to building solid relationships with their customers. Their commitment to excellence and customer satisfaction rate makes them different from their customers.

Industries Catered
Mr. Seraydarian points out a wide range of industries catered by the company, including healthcare, education, finance, technology, real estate, e-commerce, etc. With its diversification in serving industries, the company enjoys many repetitive clients. As they value long-term relationships, the company has retained many successful clients continuously benefitting from their services. 
While asked about the services, Mr. Seraydarian claimed they are approached mainly by their clients for Search Engine Optimization, Social Media Marketing, Pay Per Click Advertising, Content Marketing, Web Application Design and Development, and digital strategy consulting. These services are hugely in demand and are immensely acquired by businesses to achieve a significant online presence in the market.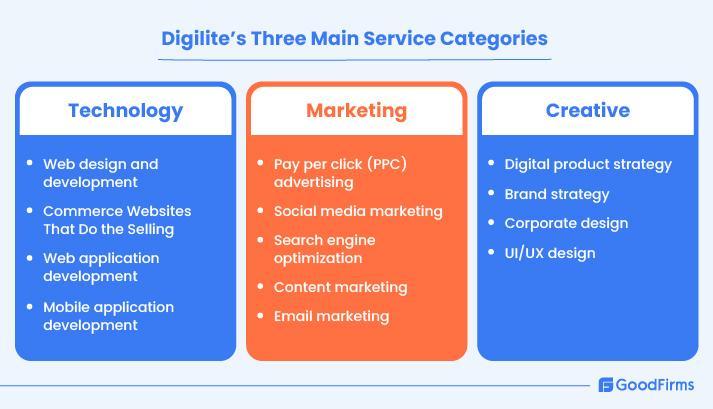 Customer Satisfaction and Support
Mr. CEO affirms Digilite gives utmost importance to customer satisfaction. They take care of their customers' unique needs and goals, maintain open communication, provide regular task updates, and deliver high-quality work on the promised date. The dedicated account manager appointed to every client resolves their queries and issues, and virtual support through online meetings, phone calls, and chats is easily conducted through offices in different countries across the globe. Knowingly, the company today operates in Toronto, Sydney, Yerevan, and Los Angeles and is regarded as the top creative agency in Canada by GoodFirms – one of the world's leading review and rating companies.
A list of the partner companies of Digilite is displayed in the image below.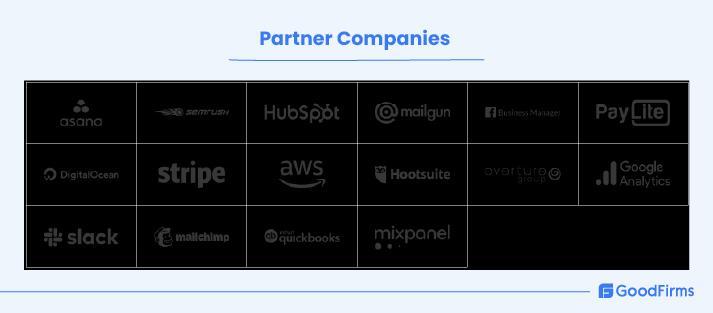 Payment Structure
The payment structure followed in the company depends upon the nature and scope of the project. They charge as per pay per milestone, fixed cost, pay per feature, and other flexible billing options. The budget for each project is set based on the complexity and value of Digilite's portfolio. The price range for all tasks handled by the company in 2022 falls between USD 5,000-USD 200,000.
Future Prospects
Mr. CEO and his team envision Digilite becoming a global leader in ten years. Expanding international reach, adapting to evolving technologies and trends, and incorporating artificial intelligence, data analytics, and automation into our strategies and some of the most important factors they have decided to work on. The company also wants to invest in the professional development of its team to make Digilite shine on the entire world's digital landscape. 
Digilite's client reviews depict why it is preferred as a partner concern to most clients.